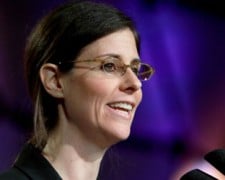 After looking at Q4 results from Saga Communications and listening to management's conference call, Wells Fargo Securities analyst Marci Ryvicker has raised her price target for the stock to $41-45 from her previous $36-38, but maintained her Market Perform (hold) rating. The stock closed Tuesday (3/13) at $41.40, up $2.59 for the day.
"Ex-political, consolidated net revenue was +1.7%, with radio +0.6% and TV +6.1%. EBITDA beat again in Q4 due to lower expenses than we had forecast," Ryvicker said in a note to clients.
"Q1 was said to be pacing up low to possibly mid-single digits. With slightly higher revenue combined with lower interest expense, we are raising our 2012 estimated EPS [earnings per share] to $4.09 from $3.72. We are also introducing our 2013 estimates as follows: revenue of $134 million, EBITDA of $37 million, and EPS of $3.93. We maintain our Market Perform rating but raise our valuation range to $41-45 from $36-38," the analyst said.
Ryvicker was impressed by where things are heading in 2012. "SGA is currently pacing up low single digits [for Q1], with the potential to come in mid single digits depending on final March results. Management also would not be surprised to see 2% growth in the core radio business in 2012, which would be ahead of most radio industry estimates, including our own (which is +1%). Auto is continuing its sequential improvement, and should have a good year given strong SAAR and easy comps from last year's tsunami," she wrote.
The analyst also took note of Saga CEO Ed Christian's comments about the transaction marketplace heating up.
"M&A comments were exceptionally bullish. Management spoke yesterday (3/13) about its anticipation of a robust M&A market in 2012. Accordingly, M&A was mentioned as a potential use of cash given the right opportunity," Ryvicker said of Christian's appetite to buy stations.