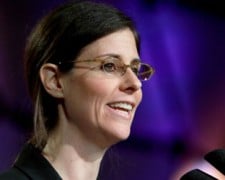 After Gray Television beat Wall Street expectations with a 16% revenue gain in Q1 Wells Fargo Securities analyst Marci Ryvicker started reworking her projections. Here's what she sees going forward…
In a note to clients, Ryvicker said the company's beating of expectations was primarily due to gains in local spot and political. Local was up 3.8%, while the analyst had expected 1.7%. And political in Q1 was $5 million, rather than $3.6 million.
"Despite the higher revenue in Q1, operating expenses remained roughly in line at +5.2% vs. our +5.5% estimate and management's guidance range of +5.6% to +6.8%. Given higher revenue and in line expenses, EBITDA and EPS beat," Ryvicker said of the up quarter. "In addition, management's Q2 revenue guidance range of +13-14% came in ahead of our expectation of +11.8% — due to strong core growth, both in local and national as political was in line."
Her bottom line: "We are raising our 2012 estimated and 2013 estimated EPS [earnings per share] to $0.65 and $0.09, from our prior $0.60 and $0.06 expectations, respectively." Obviously, the big difference there is that this is an election year and 2013 is not.
In addition to the advertising growth, Ryvicker noted that Gray began to benefit from its most recent round of retrans negotiations. "We are currently anticipating $33.5 million in retrans revenue for 2012, up from approximately $20 million in 2011. While there are no major retrans deals in 2012, we do expect some nice step-ups come 2013 and 2014, as GTN [Gray] renegotiates with CMCSA [Comcast] and the two satellite providers [Dish and DirecTV]," she wrote.
Ryvicker also noted that Gray has "the most favorable reverse comp timing" compared to its TV group peers. "GTN is currently paying a very small amount for its four Fox stations, while it waits to sign an agreement for its nine NBC affiliates. Management disclosed that an additional three-month extension was given on the NBC negotiations (now through 6/1, but originally slated for 1/1) as NBC has pulled the proxy method and is now negotiating individually with station groups. GTN will not be paying reverse compensation for its ABC and CBS stations (its largest station group), until the start of 2014 and 2015, respectively."
The Wells Fargo analyst has an "Overweight" rating on the television sector and maintained her "Market Perform" rating on Gray Television.