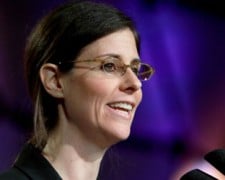 Wells Fargo's Marci Ryvicker spoke with execs at radio group Entercom, and found that the company's experiences seem to be meshing with overall radio trends.
Looking at Q2 results, the company's revenue was sluggish in April, better in May and is tracking to be somewhere in between in June – just as has been reported for the radio business as a whole.
Also in keeping with overall trends is Entercom's expectation that things will pick up Q3. Ryvicker believes that although it is still early to be making precise calls as to the group's Q3 results, it could see a substantial something like a 6.5% gain, and might be on track for about 2.5% even without political factored in.
Automotive is doing OK, with the surprise being that dealer groups rather than local dealers are driving the category. Up categories were said to include casinos/gaming, financials and home improvement; downers include groceries, beverages and telecom.
The best news is that it appears to Wells Fargo that radio has exited the bottom and is on its way into a growth pattern. Ryvicker applauded the seeming absence of "skittishness or knee-jerk cancellations" that was a hallmark of the recession years.
A specific challenge for Entercom is working through seven format changes that were made in 2011. They put an immediate damper on revenues, but Arbitron's PPM methodology is expected to work in their favor, allowing advertisers to see improvement at a much faster pace than would have been possible under the old diary method.