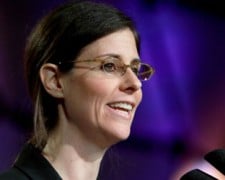 Second quarter business is said to be picking up, and is being driven by local revenues. Buys are still coming in late, but visibility is said to be improving, and the magic words "pre-recession levels" were even used.
The report comes from Marci Ryvicker of Wells Fargo, who said that the info comes from a large private radio company – which remains anonymous. Ryvicker came away with a great deal of illuminating information.
* Q2 is pacing better than Q1, and the gains are coming on the local side. Moreover, the company is trying to de-emphasize national, a move Ryvicker believes may be an industry thing rather than an individual company thing. Local is said to account for 75% of all business.
* Visibility is better – May is 80% booked, 65% of June is spoken for and July booking stands at 40%.
* Ad categories: Health, financial and soft drinks are strong; auto, travel/tourism, theme parks and beer are up; home improvement and telecommunications are weak.
* Local cable, not internet-based competitors, is the biggest concern at the local level. Local TV is doing OK, and a lot of the money moving from one media to others is bleeding away from newspapers.
* Pandora may be making noise and headlines, but it isn't doing much at the local level. However, Ryvicker thinks an assessment of Pandora's ultimate impact is premature.
* This particular operator is selling solutions rather than "spots and dots" and has managed to boost digital earnings to 15% of the total, a percentage that is growing. Ryvicker believes this company is unique and "gets it."
* The positive Q2 assessment is coming without any particular help from the political category. Radio is expected to get the most political benefit on the back end of the election.
RBR-TVBR observation: We have a very simple, easy-to-understand blueprint for success, giving the underpinnings of a stable-to-improving economy:
The ingredients are strong local content, integrated campaigns that make maximum utilization of both a station's broadcast and internet assets, and the use of the local newspaper as a primary lead sheet.