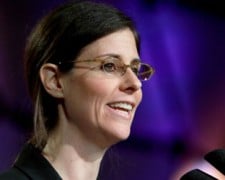 Clear Channel Outdoor (CCO) boosted its bond offering by nearly a billion bucks, so Wells Fargo Securities analyst Marci Ryvicker has had to go back and re-crunch the numbers. She's reduced her earnings estimates for CCO, due to the higher debt load, but still sees positives in the deal to send cash to parent Clear Channel Communications.
"The debt issue was 76% greater than previously announced after the close on 2/27 – likely as a result of the attractive rate. We estimate that the new debt will add ~$168MM in annual interest expense and thus revise our 2012 and 2013 earnings per share estimates to -$0.04 and -$0.05 from $0.21 and $0.26 respectively," Ryvicker said of the impact on CCO earnings.
Even so, she sees benefits to the big bond sale. "Bottom line: We still see two positives from these transactions: 1) CCO shareholders are set to receive a special dividend of $6.08 per share; and 2) this helps to remove a major overhang at the parent company," Ryvicker told clients.
"At this point, we calculate that CCO's net debt to EBITDA ratio is roughly 5.5x, up from 2.7x that the company reported at 12/31. As stated above, our interest expense rises significantly, by $168MM, which reduces our EPS estimates. We have heard from bondholders that CCO is likely to refinance its existing $2.5B in Senior sub notes, which are currently priced at 9.25% — given that the debt market is more favorable than when these debentures were initially offered (December 2009). As a result, we think that our $168MM in interest expense may come down – but due to lack of clarity around the timing and magnitude we are publishing a new model based solely on tonight's events," she wrote after the upsized offering was announced.
For CCO shareholders, Ryvicker calculates that the special dividend to be paid this month of $6.08 per share is a yield of approximately 46%, based on the Wednesday (2/29) closing price of $13.23.
"Now what?" Ryvicker asked, then answered her own question. "We have been asked what to do with the stock now that the 'event' investors have been waiting for has happened. We are maintaining our outperform rating for a few reasons: 1) We believe the stock is worth ~$16 (vs. yesterday's close of $13.23) pre-dividend; 2) Management's decision to lever CCO up TODAY may signal that the outdoor business is showing sustainable improvement; 3) Valuation remains attractive post dividend, in our view – we calculate a 2012E EV/EBITDA multiple of 8.5x versus historical levels of 10.0x and versus LAMR, at 9.7x; 4) Now that parent company CCMO is somewhat relieved from its debt load, it could look toward alternative means to further unlock value of CCO; and 5) Mgmt may have a de-levering strategy which may provide a positive outlook for equity holders going forward," the analyst concluded.
Both CCO, which trades on the NYSE, and parent CC Media Holdings, which trades on the pink sheets, were higher in Thursday's trading.