In early June, the 2020 Radio Show, scheduled for Sept. 13-16 in Nashville, became the latest large gathering to fall victim to the COVID-19 pandemic.
However, rather than cancel the conference, the NAB and RAB opted to bring it to a virtual environment, much like the ongoing Hispanic Radio Conference LIVE!
The Radio Show's all-virtual presentation officially begins Monday, October 5.
And, it's being pitched as an "exciting week-long celebration of radio." Every afternoon during the week of October 5, events pertaining to radio, media and all things audio will be offered.
Among the highlights is an appearance by Bryon Allen. It's an intriguing choice, as Allen has become a media mogul through his purchase of television properties. He'll lead a conversation focused on his career and journey as an industry leader.
Allen joins previously announced speakers, and a Radio Show CEO Town Hall featuring Cumulus Media CEO Mary Berner, Entercom President/CEO David Field and iHeartMedia's CEO Bob Pittman, moderated by NBC News Senior Business Correspondent and MSNBC anchor Stephanie Ruhle. The session is Monday from 2pm-2:45pm Eastern.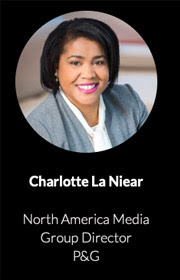 A late addition to the lineup features a key Procter & Gamble Co. executive.
No, it's not Marc Pritchard. Rather, Charlotte La Niear will appear. She's the North America Media Group Director at P&G.
La Niear will participate in a session scheduled for Wednesday (10/7) from 2pm-2:45pm Eastern, "Force for Good and a Force for Growth."
---
For the full lineup, please click here: