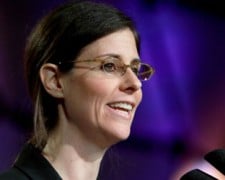 Wells Fargo analyst Marci Ryvicker believes that the latest debt offering from Gray Television figures to dampen results in the near future, but a number of factors are lining up to boost revenues going forward, not the least of which will be the elections of 2014.
As a result, Wells Fargo believes earning per share for FY2013 will be $0.29; but it's predicting an increase to $0.84 for FY 2014.
Ryvicker noted the company's strong lineup of well-run stations "…which are not easy to come by," and noted its desire to add more of them. However, she said it doesn't look like anything is cooking on the  M&A stove at the moment, and if Gray does pull the trigger on a deal, it is likely to be small and focused, not one of the barn-burners other groups have been executing of late.
Looming in the future of Gray is a negative – it will soon be forced to pay reverse comp to networks to which it has no such obligation at the moment. But on the plus side, it has a large number of retransmission consent contracts set to expire around the end of 2014 and beginning of 2015. The company hopes to bring its now-below-market rate closer to what some of the bigger groups are pulling in.
Gray also has the good fortune to enjoy a strong presence in battleground states, which helped it out enormously in 2012. Although there will be no presidential election, the number of Senate races in Gray states is increasing from 12 to 15. Wells Fargo thinks the political category could be good for about $58M in 2014.
Ryvicker noted that many groups are looking at the ATSC 3.0 initiative as a chance to open up new revenue streams that will be invulnerable to the inevitable ups and downs of the advertising business. She said that while Gray supports the initiative, its current focus is on secondary program streams. It currently is operating 42 digital side-stations which accounted for $15M in revenue and $8M in broadcast cash flow in 2012.
The group is rated market perform.