When it comes to delivering traffic and weather across its Traffic Weather Information Network (TWIN), audio media company Entercom adopted a Desktop Video Wall platform developed by a traffic camera solutions company based in Vancouver, B.C., Canada.
The result is a stream of as-it-happens transit information for use across Entercom stations and non-owned radio stations using TWIN services.
The video provides not only information on highway conditions, but also at-the-moment weather. It's thanks to access to more than 16,000 cameras from 25 markets across the U.S. via Vizzion, the company behind the Desktop Video Wall.
From the application's map view, users can view cameras displayed on a map and quickly drag and drop them into custom video walls for viewing up to 25 cameras per screen. From the video wall view, the 25 cameras are continuously refreshed and can be displayed as streaming video where available. Cameras can be "undocked" to create floating camera windows or displayed full screen for a highly configurable multi-screen set up. Users can create an unlimited number of video walls to monitor specific events or geographies. Video walls are personalized to each user and can be selectively shared between users as well.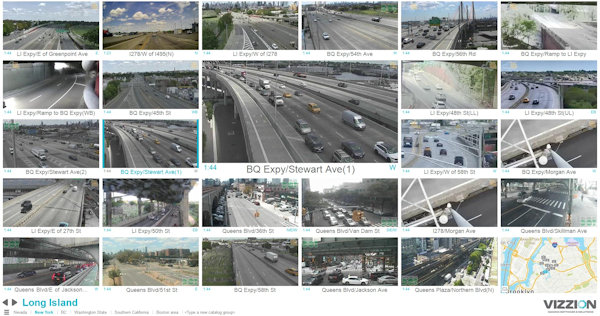 "At the moment, operations centers generally have access to a limited number of local cameras and it can be prohibitively expensive to buy or build in-house traffic camera applications that combine multiple sources into a customized solution," Vizzion says. "Vizzion has used its 10 years of experience with traffic cameras and application development to develop the most effective way for operations centers to watch their regional road networks. Further benefits to operations centers are unique features and options such as current viewpoint detection, automatic image enhancement, and automatic intelligent cropping to make the most out of screen real estate."
The application is available through site-licensing with unlimited users per site and a variety of geographic options from single markets to worldwide coverage. A desktop application, it builds on Vizzion's XML feed, used to power traffic cameras.
"TWIN takes innovative approaches to provide their listeners with the most up to date and accurate traffic reports, including taking advantage of our new on-vehicle camera network," says Keith Anderson, Vizzion's Marketing Manager, "so we're proud to have been selected as a vital component of their operations centers."
---
Want to learn more for your company?
Here's Vizzion contact information for your team.
Sean Beaudoin | Account Manager, Vizzion | office +1.604.985.9399 ext. 6# | Vizzion.com | Twitter | LinkedIn