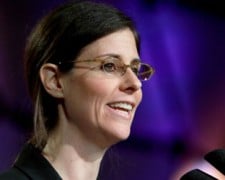 Wells Fargo's NAB Investor Forum yielded a sense of the broadcasting business, according to the company's Marci Ryvicker. In general, TV is looking positive, while radio is working on it.
"While the tone of business on the television side remains stronger than what we heard from radio, the one common element we felt was a significant sense of collaboration among the respective industries," observed Ryvicker "We see several near term positive catalysts ahead for television, but remain on the sidelines for radio- until some of this industry's hoped-for initiatives start bearing some fruit (i.e. by way of revenue growth)."
Ryvicker said it appears the television is in the first part of a two-phase M&A pattern. The first, still in progress, has involved the sell off of a number of groups, such as Newport, Barrington and a few others, and is expected to continue. After that, investors are expecting deals more along the lines of a "merger of equals."
The idea behind acquiring more stations is achieving scale, which can translate into greater leverage when negotiating retransmission and reverse comp fees.
Discussing the Aereo situation, Ryvicker said that network leadership and affiliates are showing solidarity when it comes to threats of going off air and on to cable in the event Aereo continues its winning streak in court and passes along broadcast signals for free and without broadcaster consent. However, it is not expected to get this far – but nobody knows for sure.
The virtual MSO venture at Intel could play out well for broadcast television. And broadcasters are showing interest.
Q1 sales were better for television, up a bit, than radio, down a bit. But both are said to be doing better in April then they were doing in March.
Ryvicker noted that radio groups were working in concert on a number of fronts, including digital streaming, FM chips in smartphones, sports and record label deals.
RBR-TVBR observation: Keeping on top of technology is important, but so too is maintaining a tight grip on those elements of broadcast that distinguish it from other media – and that is its local presence. It is important to remember that simply being local is not enough – the production of compelling local content is necessary to get people to tune in; enhancing this experience effectively with modern digital technology is the gravy and the path to the future.