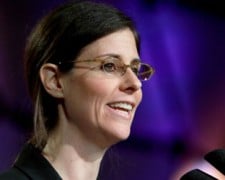 Wells Fargo analyst Marci Ryvicker noted that broadcast operators were getting satisfactory results on the local advertising front during the second quarter, with radio turning in a particularly good performance, and that things are looking up, looking ahead.
The Q3 projections are better for TV at the moment, according to Ryvicker. Radio started strong, she noted, but is slowing, while TV is said to be picking up steam. There is a reason for optimism, she noted: "auto, telecom and housing-related categories sound strong."
Discussing the television side, Ryvicker said, "TV sounds pretty good. Q2 was a bit volatile, but we think numbers will be fine, and we hear Q3 is pacing ahead of H1. We do want to call out the tough comps from last year's Olympics (of our coverage, GTN has the most exposure to NBC as a percentage of revenue) and political, but the focus will likely be on core nonetheless. With regards to M&A, we are hearing more and more about Stage 3 consolidation, which should ultimately lead to further monetization of spectrum."
As for radio, Ryvicker noted, "Radio is doing quite well. While not all radio groups are created equal, we were surprised at the number of execs who sound pretty good regarding trends – with Q2 up low single digits (LSD), and Q3 ahead of that (but starting to fade)."
Ryvicker noted that outdoor has been and figures to remain stable.