Matt Siegel, after a two-week absence from iHeartMedia-owned WXKS "Kiss 108" in Boston, returned to the Top 40 station at 8am Eastern to make a special announcement.
Was this the end of a storied 41-year ride at the station first made famous by Sunny Joe White that eventually ended up becoming iHeart's CHR/Pop jewel of New England?
Yes. Siegel is retiring.
From the "Right Now" segment to playing the hits, three generations of Back Bay radio listeners have enjoyed Siegel and his co-hosts on Matty in the Morning. 
But, for the last 14 days the familiar antics of Siegel were absent from 107.9 MHz. Until this morning, there was speculation as to why. Siegel, who is 72 years old, said on the air April 19 that "he had business he had to take care of" after having his prostate checked the day before. Siegel had not been heard since — until this morning's announcement.
In a seven-minute pre-recorded announcement, Siegel got honest with his listeners. "This past year has been a little rough for me," he said. "I had brain surgery. I had a broken foot. I started getting a little grumpy on the radio, which I hate because all I want to do is make people laugh. That's my job, just to make people laugh, and I got off target, I guess you would say."
Then came the big reveal.
"I'm a lucky guy for a million reasons, but five of them are a great wife and four great kids, and my great wife and my great kids talked with me over the last several weeks and helped me come to a decision and the decision is this: as of now, I am retired. I'm leaving Kiss 108 and starting my new life as a mediocre golfer."
The iHeartMedia team took to Twitter to salute Siegel.
Congratulations, Matty! Enjoy your well-deserved retirement.⁠

Here's his message to family, friends, co-workers, and fans: https://t.co/LHabmgBgnt pic.twitter.com/d8qQIsRee1

— Kiss 108 (@Kiss108) May 3, 2022
By 9:30am, morning show member Billy Costa was playing best-of bits from past shows as the reminiscence of Siegel's 41-year tenure at Kiss 108 officially commenced.
A SENDOFF MINUS ANY STUNTS
"This is really bittersweet," Siegel said in his recorded message to listeners.
This time around, Siegel wasn't fooling when it came to his exit from WXKS.
On May 19, 2021, Siegel made headlines for "storming off" of Matty in the Morning a day earlier in response to censorship over comments made about entertainer Demi Lovato, who is non-binary and has had various publicly acknowledged mental health challenges.
By May 20, 2021, the matter was over, with some deriding Siegel for what could have been a publicity stunt. "Sorry to disappoint those of you who are excited that I was leaving, but I'm still here," the popular Boston radio host said at the time.
The headline-grabbing three-day affair came five months after he celebrated 40 years on the air at WXKS, in January 2021. Speaking to WBZ-4 at the time, Siegel said, "Well I've been pretty lucky … I've had some pretty decent experiences. I spoke at the Boston Strong show after the marathon bombing. That was very moving. I called Hillary Clinton after Election Day. That was crazy … I just joked with her. Everybody thought that it was over and she was the president, remember? And we did a lot of laughing."
To provide a sense of just how long Siegel has been in morning drive at Kiss 108, picture this: A July 16, 1982, Street Talk column in Radio & Records noted that he'd just enjoyed a weeklong vacation and that his fill-in host was Jay Thomas. Meanwhile, Howard Stern was invited by WAVA/Washington to formally say farewell to his D.C. listeners after exiting DC101 for WNBC/New York. Scott Shannon was at Q105 in Tampa, and has been at four radio stations in two different markets since.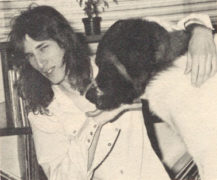 Siegel's arrival at WXKS came after a successful 2 1/2-year run in middays at WBCN-FM in Boston, the famed Album-Oriented Rocker. He won the job after a two-month run filling a leave of absence by morning host Charles Laquidara in 1977; Siegel was simply on vacation at the time and was active as a freelance producer and commercial voice-over artist for Warner Bros. Records. Before that, he worked for five years at progressive rocker KWFM in Tucson, following his graduation from what is today SUNY Oneonta.
Asked about his tenure at KWFM, Matt told Las Solanas website operator Tim Warden some eight years ago, "My fondest memory of KWFM was making $80 per week doing morning drive. I'm happy to report I'm doing a little bit better now…. Now that I think about it, maybe I'll retire to Tucson. Do you think I could still get $80 a week?"
Today, Siegel could retire to Florida. Or Arizona. Or, he'll stay put in the city he's called home for some 45 years.
Where he won't be is behind the mic on a daily basis.
---
Matty In The Morning, Kiss 108/Boston, June 1984