Media Monitors' rankings of the top 100 advertisers for the year are out, and the brand that comes out on top as 2019's No. 1 user of spot radio, spot TV and spot cable has been named.
It's hardly a surprise to anyone who has read the Spot Ten reports across the last year.
In 2019 GEICO was the nation's top national advertiser, airing 6,900,687 spots across local cable, broadcast TV and radio.
At the same time, Procter & Gamble Co. stepped up its total advertising instances on radio, rising to No. 2 from No. 5 in 2018 when tabulating each of the individual brand campaigns seen at spot radio in 2019.
While P&G is second to the U.S. government, Media Monitors says the consumer packaged goods company more than doubled the number of spots they aired in this medium over 2018 — 3,671,569 vs 1,803,412.
"Just as we predicted last year, P&G made a major push into radio in 2020," said Media Monitors President/CEO Philippe Generali.
And, in a sign that radio is getting renewed interest in the face of local digital's meteoric rise, Generali says advertisers "across the board are finding value in the medium."
Media Monitors rankings show that nine of the top 10 advertisers increased the number of spots they aired – some of them by significant margins.
"Only McDonald's ran fewer instances," Generali says.
Though GEICO aired the most spots on local cable, where it ranked No. 1, it also was a heavy user of spot radio, where it ranked No. 2 for 2019. Besides GEICO, insurers such as Liberty Mutual, Progressive and State Farm ranked in the top 10 in one or more media channels. Automotive dealer associations for Chevrolet, Toyota, Ford and Nissan held on to their top 10 rankings in broadcast TV.
Here's a look at who advertised the most on radio, broadcast TV and local cable:
LOCAL CABLE
Local cable continues to be GEICO's preferred medium. The company ran more spots on cable than in any other media – and 535,074 more spots than it did in 2018.
Two categories – insurance and fast food – account for seven of the top 10.
Each of the advertisers ranked in the top 10 aired more than 1 million spots – with Geico airing over 3 million. Together, they advertised 16,877,090 instances on local cable, more than any other medium.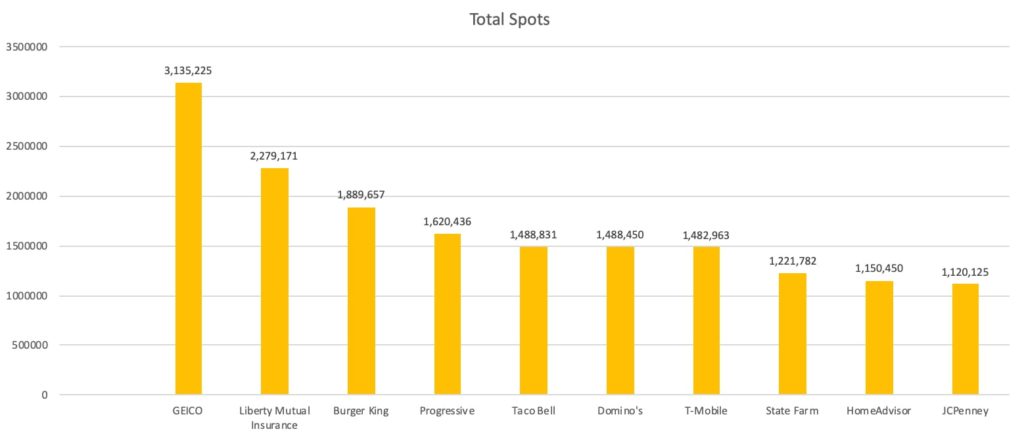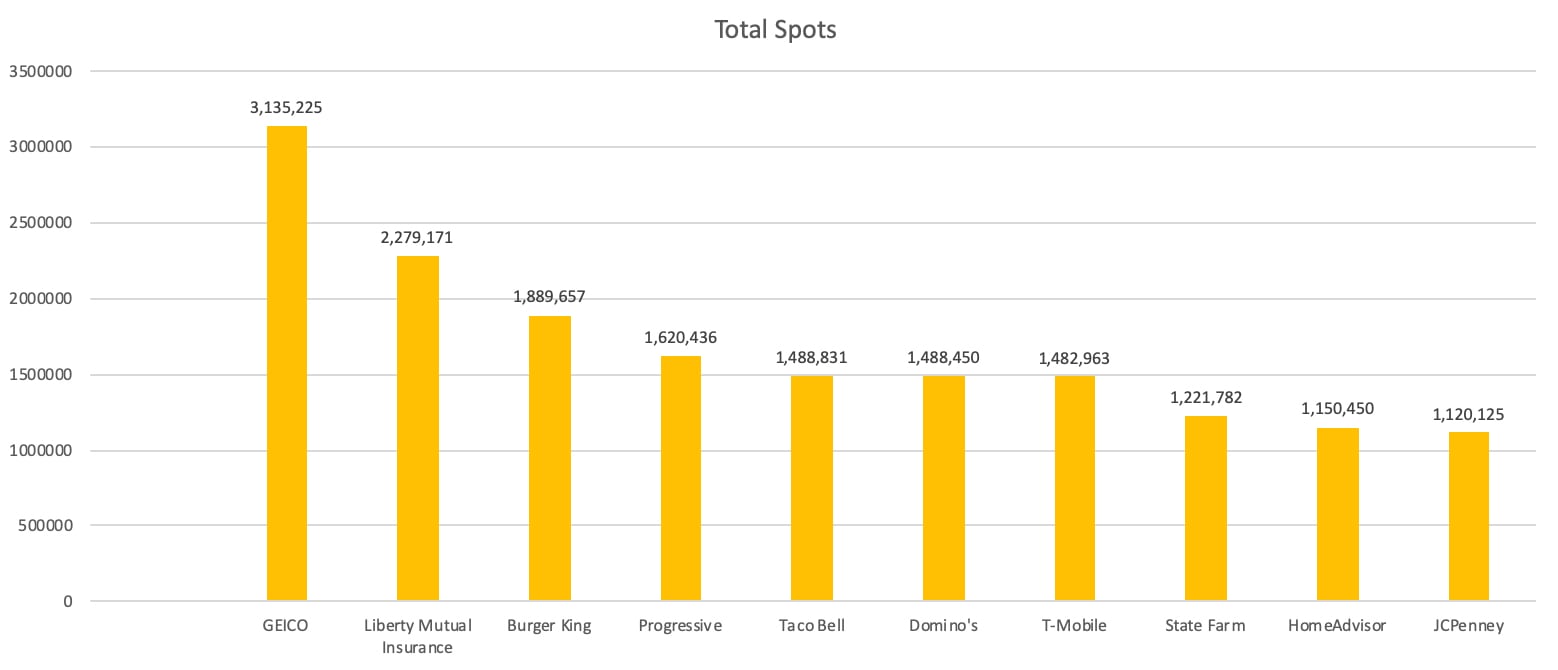 Source: Media Monitors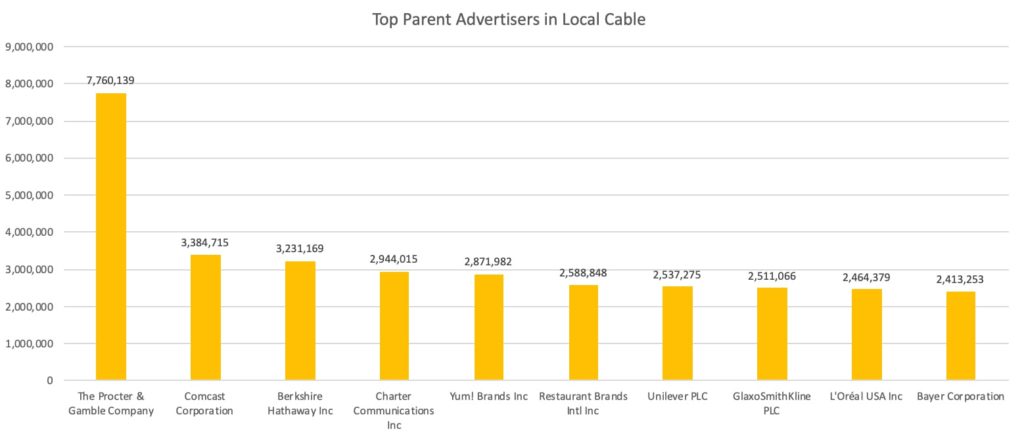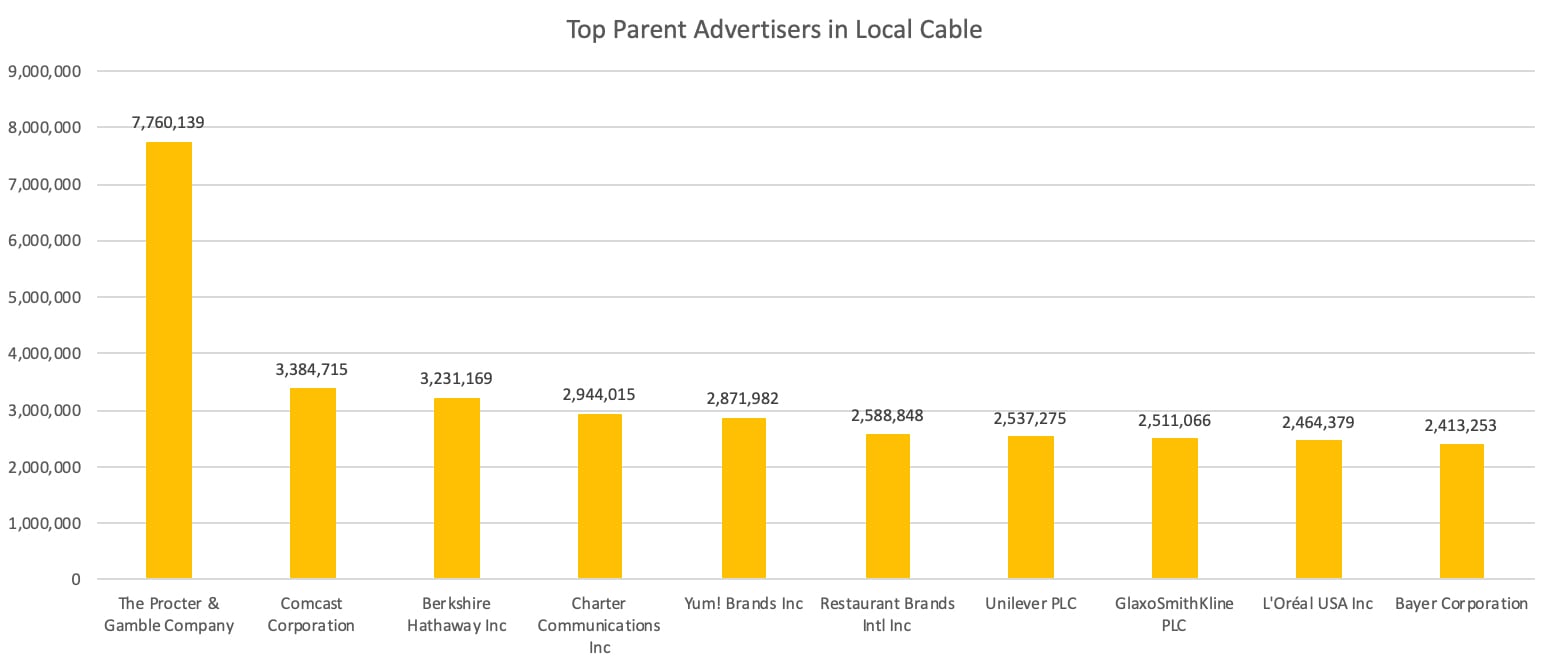 Source: Media Monitors
RADIO
The top 10 advertisers aired a combined 15,199,263 spots, up 1,829,342 from 2018. For the third year in a row, Home Depot and GEICO held onto their No. 1 and No. 2 rankings, respectively. In 2019, the home improvement giant aired 2,604,503 spots, while GEICO increased its instances by 301,909, according to Media Monitors data.
Taking advantage of a strong job market, employment services company Indeed was promoted to the No. 3 spot, up from No. 4 in 2018.
In addition, two new advertisers emerged among the top 10. Seriously Digital Entertainment smashed into 10th place, from No. 42. In 2018, the internet gaming company was at No. 42.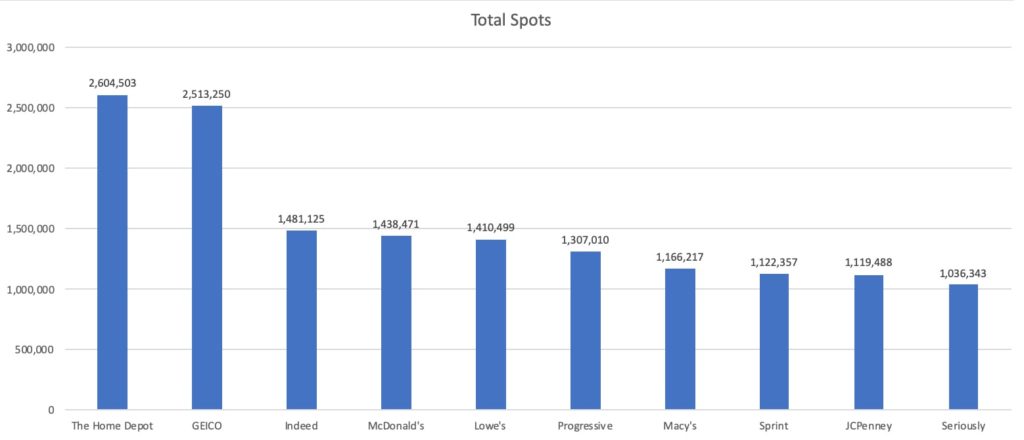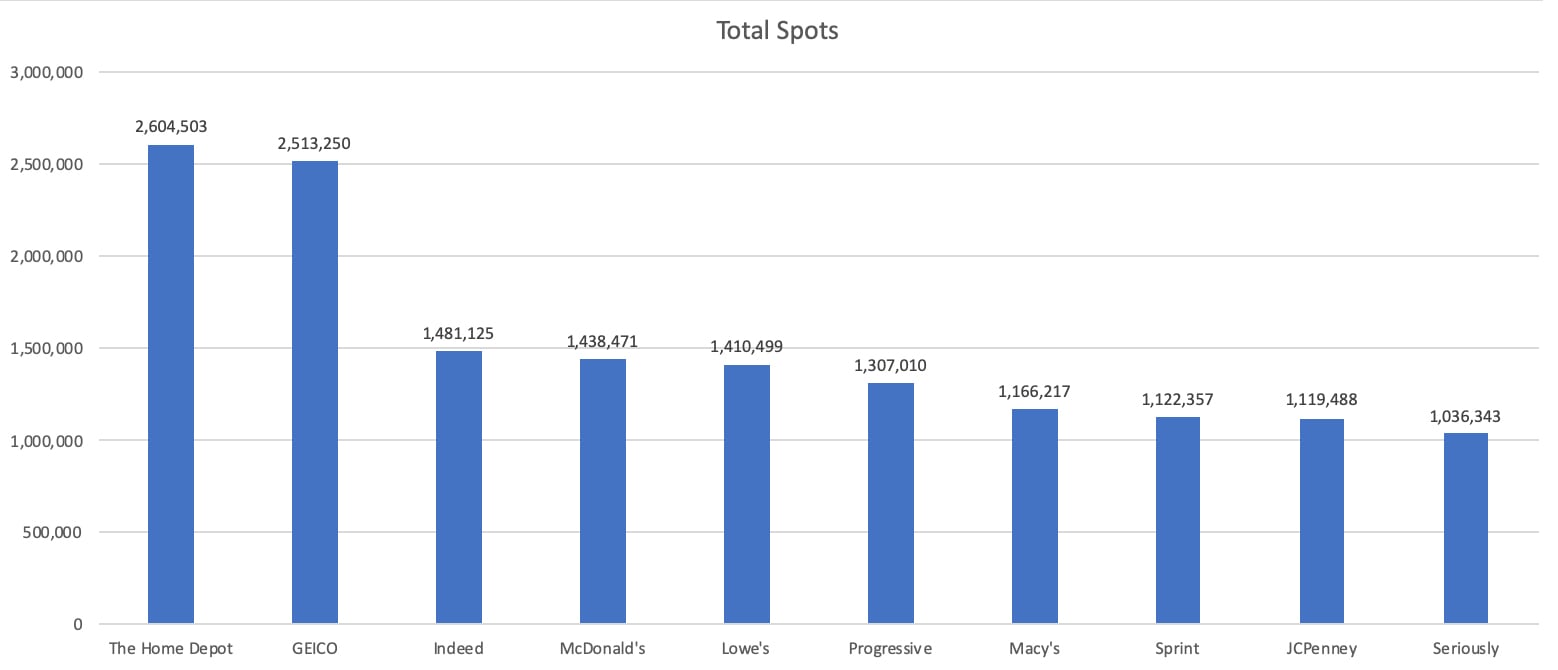 Source: Media Monitors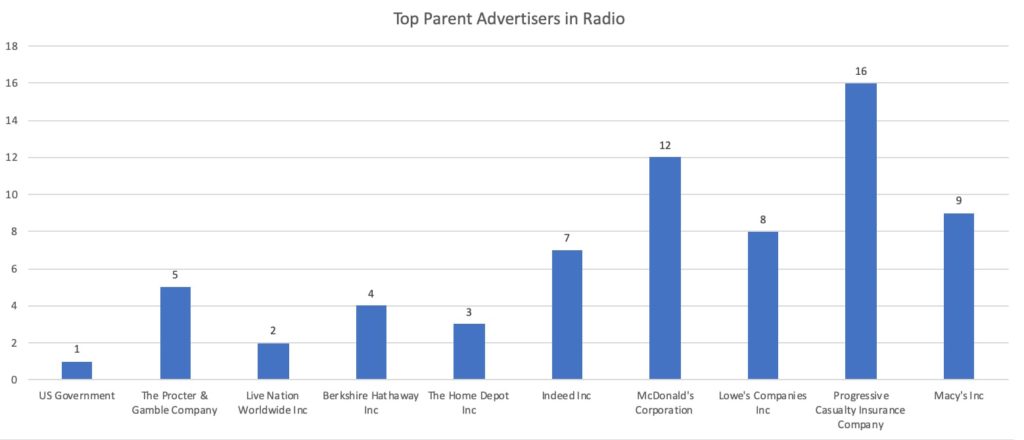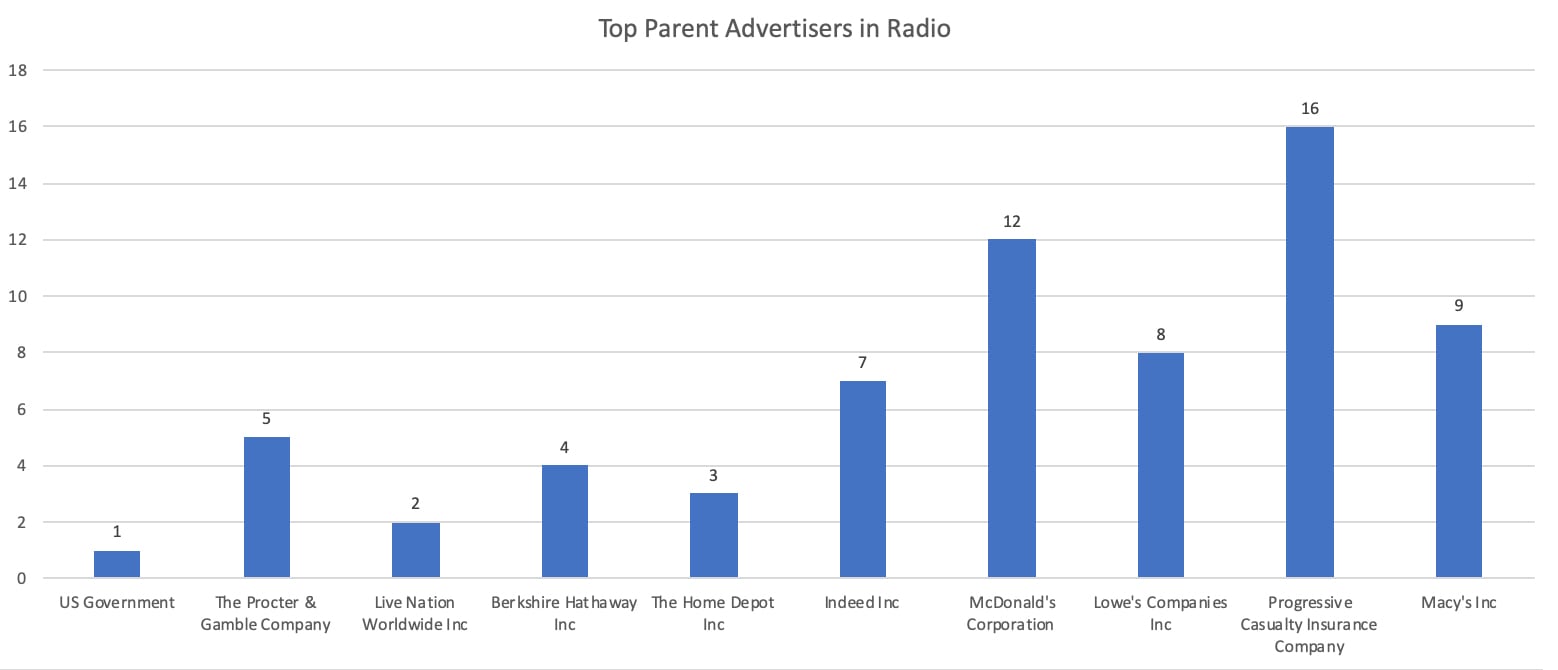 Source: Media Monitors
BROADCAST TV
For the third year in a row, GEICO aired the most spots on broadcast TV with 1,252,212, an increase of 26.7%. Progressive and McDonald's rounded out the top three. Together, these advertisers aired 3,351,867 spots.
And yet, the category that led the list for airing the most number of spots was automotive dealer associations. Chevrolet (4), Toyota (5), Ford (6), Nissan (9) together accounted for 3,315,998 instances.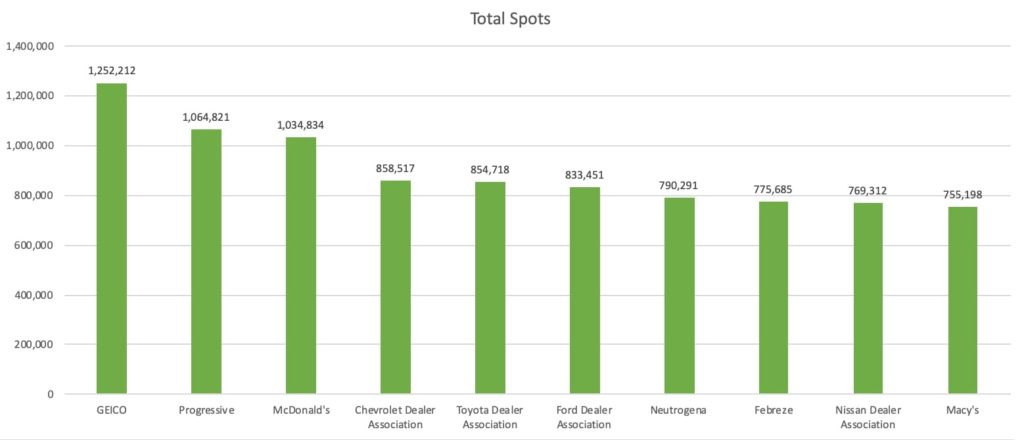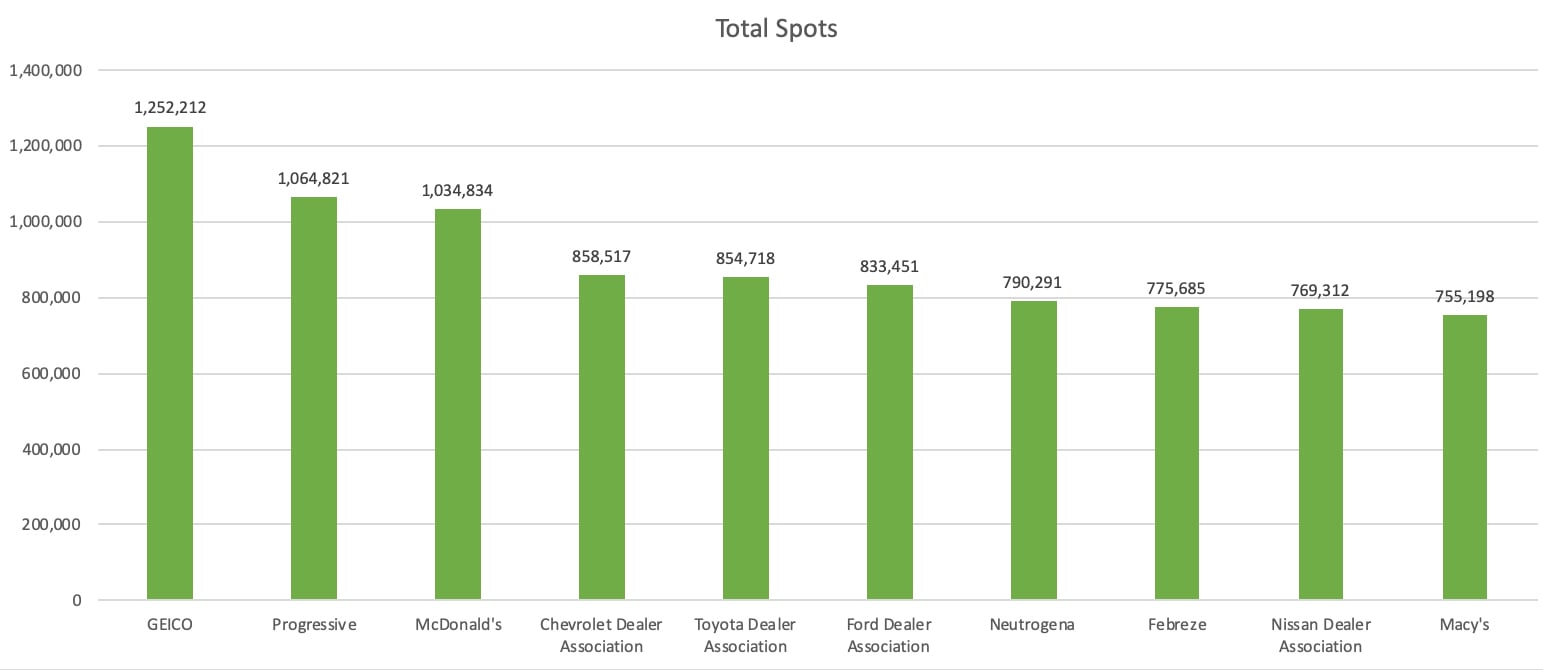 Source: Media Monitors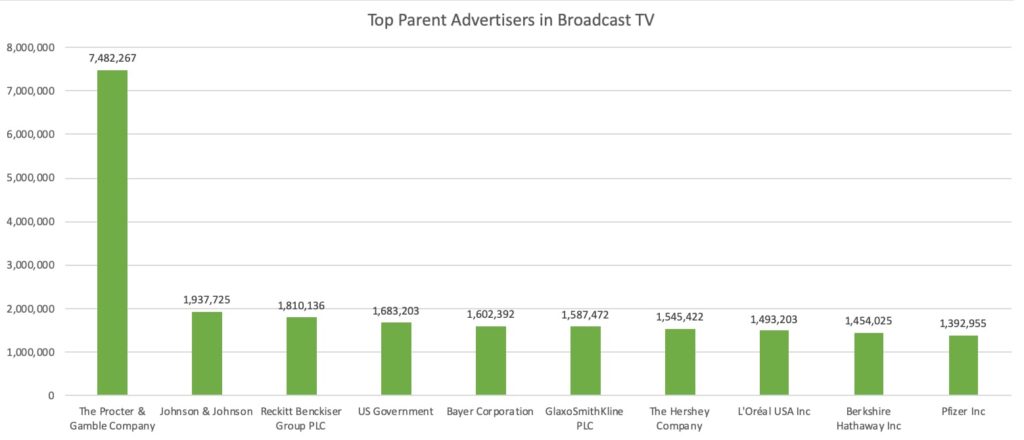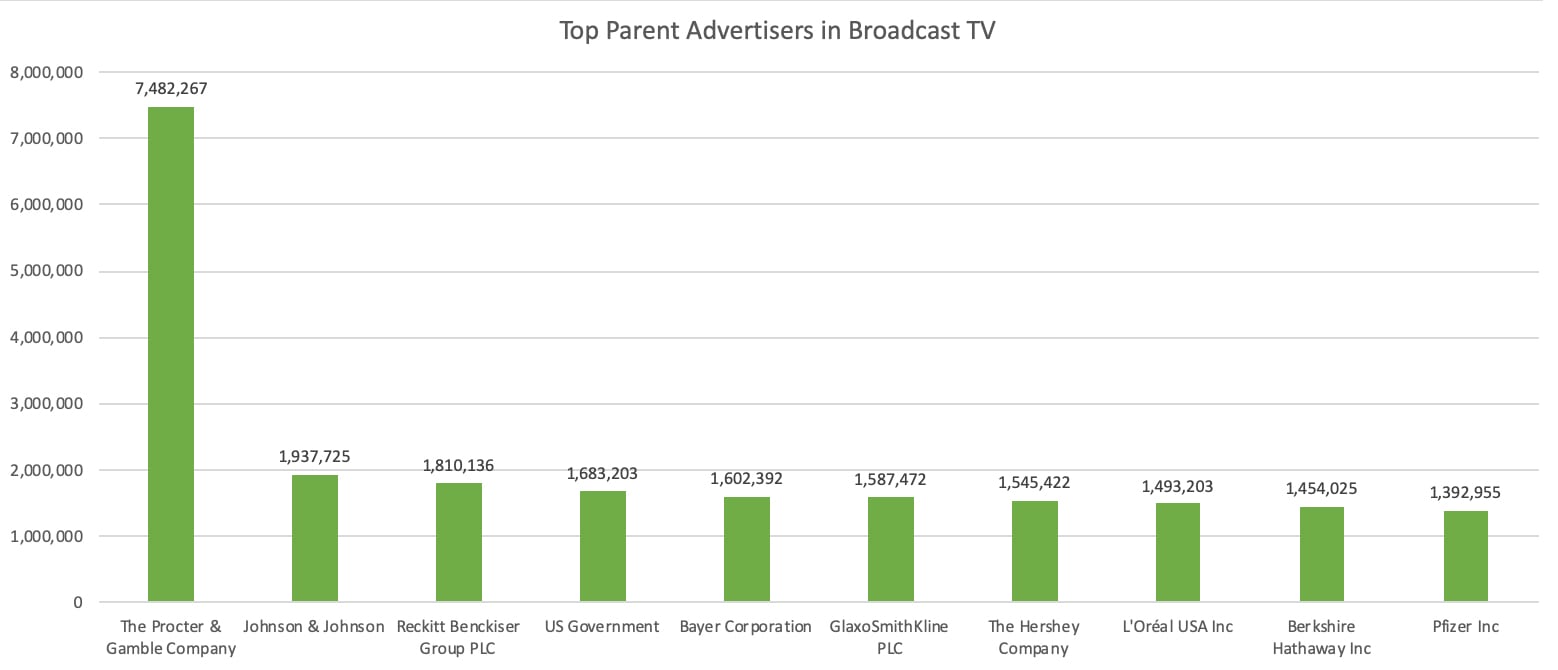 Source: Media Monitors
What does 2020 portend?
"A strong economy certainly indicates higher advertising investment," Generali says. "Insurance companies and automotive dealers are likely to take their strong momentum into the new year, but a U.S. presidential election is also on the horizon. As a result, brands will have to compete with campaigns for limited advertising inventory and the numbers of spots they air may not be quite as robust as we've seen over the last few years."