She proudly serves the state of Washington's Fifth District in Congress. Hailing from Spokane, she considers herself to be a "pioneer, trailblazer, leader, working mom of three, wife, trust builder," and an "ability advocate."
Introducing Republican House Member Cathy McMorris Rodgers, who has been selected as House Energy & Commerce Committee Ranking Member.
Rodgers will take the role with the next Congressional session, following the retirement of Rep. Greg Walden (R-Ore.), who declined to seek reelection.
"I'm honored to have earned the support of my colleagues to serve as the Republican Leader of the House Commerce Committee," she said via Twitter, recognizing Walden and Rep. Fred Upton for their leadership. "They laid a strong foundation. It's my goal to build on that. Let's get to work!"
But, there is much more to McMorris Rodgers, and she's very much advocating efforts to counter "the Left's lurch toward socialism." And, McMorris Rodgers wants free speech protected from "blatant assaults."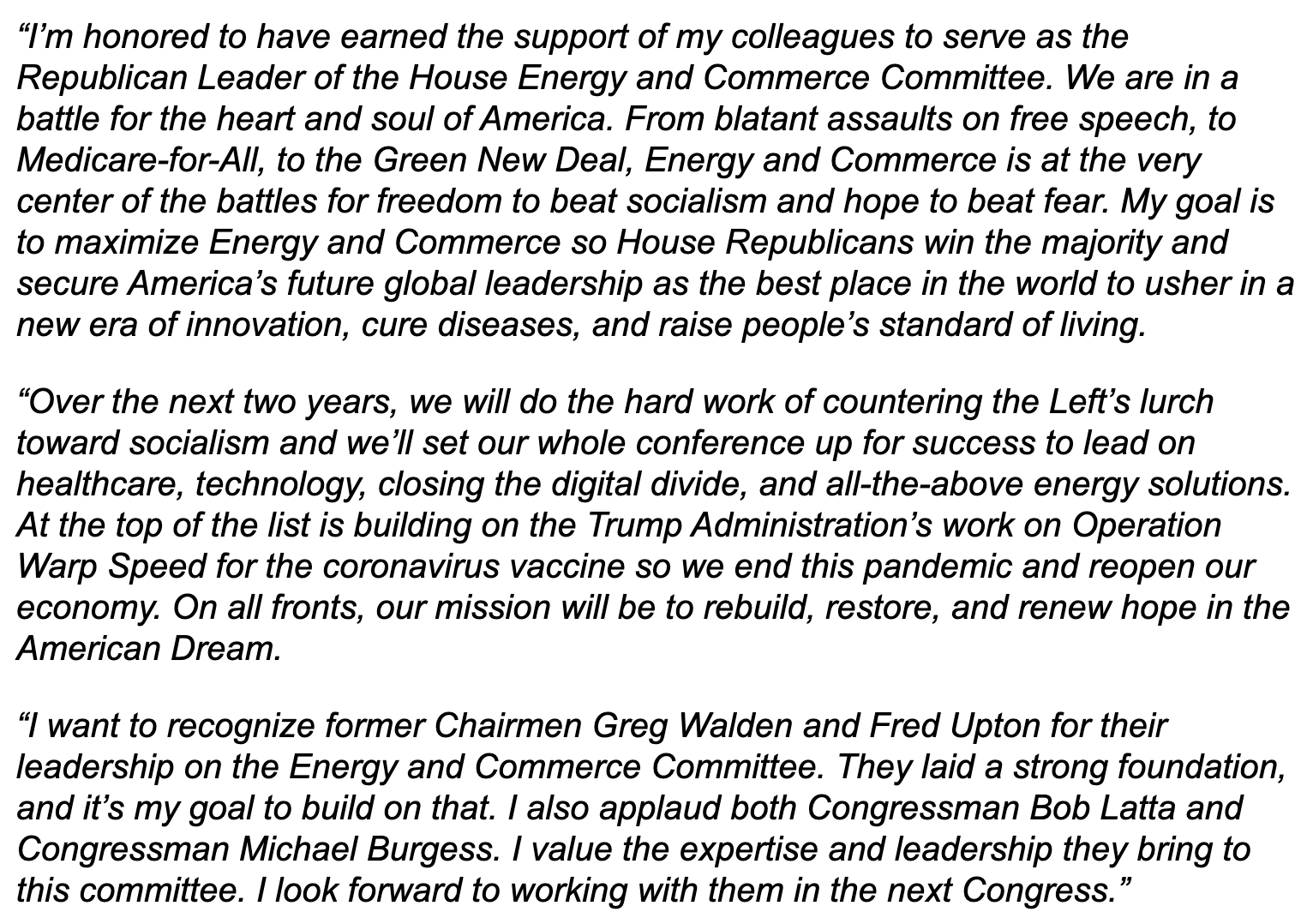 McMorris Rodgers' track record includes becoming one of more than 200 House co-sponsors of the Local Radio Freedom Act.
She is also the highest-ranking female Republican in the House of Representatives, and an outspoken voice against "net neutrality," something the FCC will likely seek to restore come January 21, when Chairman Ajit Pai will be gone and Jessica Rosenworcel will likely ascend to the top post at the Commission.
In a statement, the NAB congratulated McMorris Rodgers upon her selection as Ranking Member of the Energy and Commerce Committee in the 117th Congress.
Former Oregon Senator and NAB President/CEO Gordon Smith said Rodgers brings 'a wealth of leadership and policymaking experience to this position, and we look forward to continuing to work with her on important issues affecting the future of free and local broadcasting."
Meanwhile, to little surprise, the House Democratic Caucus unanimously re-elected New Jersey Democrat Frank Pallone Jr. as House E&C Chairman for the next Congress. He said, "Our nation faces unprecedented challenges, and I stand ready to work with all of my colleagues to combat the COVID-19 pandemic, provide critical assistance to struggling families, and rebuild our economy."
In the coming months, the Committee under his leadership "will push an aggressive agenda to ensure the Biden Administration has all the resources it needs to crush this pandemic, make health care and prescription drugs more affordable, rebuild and modernize our nation's infrastructure, combat climate change, and protect people's privacy."
He added that the House E&C Committee will also examine "how to rebuild and restore critical functions of key agencies under the Committee's jurisdiction that were dismantled over the last four years by the outgoing Trump Administration."
Title II classification for broadband services is likely one of those actions.
The Energy and Commerce Committee is the oldest continuous standing committee in the U.S. House of Representatives. It was established in 1795 to regulate interstate and foreign commerce. Today, the Committee has the broadest jurisdiction of any authorizing committee in Congress. It legislates on health care; health insurance; biomedical research and development; food safety; clean air and climate change; safe drinking water; national energy policy; nuclear facilities; electronic communications and the internet; privacy, cybersecurity and data security; consumer protection and product safety; travel, tourism and sports; interstate and foreign commerce; and other areas.
---
RBR+TVBR RELATED READ:
Rep. Cathy McMorris Rodgers (R-Wash), Chair of the House Republican Conference and fourth-ranking House Republican, has called on her Capitol Hill colleagues and the White House to cooperate with industry when planning investments in the broadband infrastructure. She made the comments at the American Cable Association Summit in D.C.