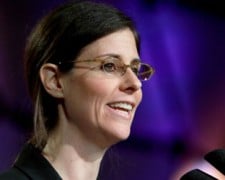 People in the business of influencing the vote took the total 2012 political season local broadcast spending total to date and advanced it more than 20% in a matter of three weeks, according to the latest report from Wells Fargo analyst Marci Ryvicker.
In the period from 7/9-29, the total spent on local television grew to $579.6M, amounting to a 20.5% increase; add in national spot and network and it mushroomed to $765.6M an increase of 18.2%.
The presidential campaigns were responsible for most of the recent spending, accounting for 42.5% of the total. After that came congressional (31.3%), ballot (21.8%) and local (4.4%). Campaigns for US Senate grew the most since the last report, growing by a factor of 35%.
New funding reports are not out yet, but Ryvicker notes that as of the most recent reporting available, $3.6B had already been socked away (or already spent), and news reports detail prodigious fund-raising efforts are still under way.
The top five markets in terms of absolute dollars are Cleveland, Los Angeles, Tampa, Washington DC and Las Vegas; in terms of percent of market revenue, they include Wausau WI, La Crosse WI, Sioux City IA, Zanesville OH and Charlottesville VA.
When it comes to big gainers in terms of absolute dollars, it's the same list as above, minus Los Angeles and adding Orlando.
According to Ryvicker, on the basis of percent of market revenue, the two Wisconsin markets exit the list and are replaced by Davenport IA and Las Vegas.