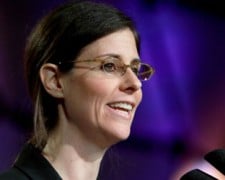 Broadcast television has already banked a significant amount of money aimed at influencing the 2012 elections, and the pace picked up during the three weeks leading up to 5/6/12, according to Wells Fargo analyst Marci Ryvicker.
According to Ryvicker, the three weeks produced an uptick in spending of some 28%. It contributed to a YTD total spend of $231.7M; Ryvicker notes that if network and national spot are added, the total jumps by more than $1M to $337.7M.
Between 4/15 and 5/6, the category distribution was as follows: 38% presidential; 30.1% ballot; 26.6% congressional and 5.3% local. Spending in gubernatorials was the biggest gainer by percentage, boasting a figure of 86%. Senate spending increased 71%; local 56%, House 38%; ballot 25% and presidential only 11%.
The top five markets in total dollars are New York, Chicago, Cleveland, Philadelphia and Tampa. Top beneficiaries on the TV side include News Corp., CBS, NBC, Disney and Sinclair.
Recall action continues to put Wisconsin on the political spending map. Among markets experiencing the biggest gains in political spending, three are from that state: Wausau, La Crosse and Madison.