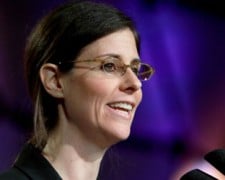 Another week, another few steps closer to the $1B threshold for local television political spending in 2012. And when you add in network and national, and we're all but there, folks. The presidential race accounts for almost half of it, according to Wells Fargo analyst Marci Ryvicker.
The total spent on local went from $809M to $852.6M during the week of 8/26-9/2, and the addition of national spot and network income brings the total television YTD total to $998.4M, an eyelash from the $1B mark. The numbers represent a 5.4% gain in local and 5.1% gain in total spending during the week.
Presidential campaign spending accounts for 45.4% of all spending, with congressional accounding for 33.8% and 3.7% going to local races. The remaining 17.1% has gone to ballot issues.
Total campaign warchest accumulation stood at $3.8B as of 7/31/12, and by all accounts, fund-raising efforts since then have borne considerable fruit, with $114M picked up by the Obama campaign and $112M by the Romney campaign – income above and beyond that raised by all the other candidates, party organizations and other political groups.
Cleveland, Washington, Tampa, Las Vegas and Orlando have taken in the most cash thus far; and the markets with the most income as a percentage of total revenue are Sioux City IA, Butte-Bozeman MT, Great Falls MT, Wausau WI, and Davenport IA.
Markets where spending is picking up with the greatest rapidity beyond those mentioned above include Boston, Helena MT, Glendive MT and Billings MT.