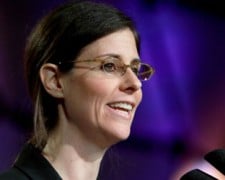 Wells Fargo Securities analyst Marci Ryvicker has looked at the deal between Cox, Sinclair and a third party company and likes what she sees – an accretive move with growth potential with no adverse impact on leverage.
Ryvicker started off by noting the potential of the stations – two in Reno (one of which is going to the third party group Deerfield Media, and one each in El Paso, Altoona-Johnstown and Wheeling-Steubenville – can generate about $20M in cash flow. And the deal looks like it's coming home at a very comfortable 5x multiple.
The mathematical expression 5x appears again in the next note: That is Sinclair's estimated leverage level, and financing this deal is not expected to budge it at all in the wrong direction, another positive to the deal.
Ryvicker opined that the move to smaller markets was a smart one, particularly since Sinclair is setting up a separate operating unit — Chesapeake TV – to tend to their care and feeding. "As we understand it," she said, "this operating entity is within the Sinclair umbrella but will provide the tailored support for small market stations. We think this is a key point (and a very smart move) given that the small market broadcast TV business varies from that of mid markets.
Ryvicker said the bottom line is that this is a big positive and looks like it's just the beginning. Sinclair is rated to outperform its sector.
RBR-TVBR observation: We said it before and we'll say it again: Sinclair is a company that bears watching. Along with Nexstar, it has been one of the most aggressive television groups of late, and we agree with Ryvicker that the creation of subgroup Chesapeake TV is a clear signal that more acquisitions loom in the near future.