For years, RNN has moved to expand its cable TV availability across more of the sprawling New York DMA. This includes a request to expand the local TV market of its WRNN-TV by adding "numerous communities" served by Altice USA's Optimum.
There's just one problem, the FCC's Media Bureau notes in an Order released Tuesday.
"We find that Licensee's Petition is lacking in one significant area – a map or maps illustrating all of the relevant community locations along with other geographic features relevant to our decision," Media Bureau Policy Division Senior Deputy Chief Steven A. Broeckaert notes.
In light of a recent FCC decision directing a strict adherence to the evidentiary requirements of the market modification rules, the Media Bureau "is unable to resolve" WRNN's petition.
As such, Broeckaert is dismissing it and inviting WRNN to refile it, along with the necessary additional evidence.
The Media Bureau placed WRNN's petition, filed in August 2019, on public notice and sought comment.
As previously reported, WRNN seeks coverage on Optimum's MVPD systems in Suffolk County, N.Y. and in five counties in New Jersey: Essex, Hudson, Monmouth, Ocean, and Union.
Interestingly, WRNN claims that compliance with the requirements of section 76.59(b)(1), specifically the provision of a map or maps that identify the location of the communities in relation to other relevant geographic features and locations, would be "unduly burdensome."
In response, Broeckaert writes, "WRNN provides no explanation of why the requirement to identify the location of all the communities it proposes to serve would impose a particular burden in this case. It provides no evidence for the existence of such a burden or indication that it even attempted to comply with the rule. More to the point, WRNN makes no argument for why such a burden, even if it existed, would constitute good cause for a waiver of the Commission's rules. If it chooses to refile, we expect WRNN to provide a map or maps responsive to the requirements of section 76.59(b)(1) of the Commission's rules, or a detailed explanation of its efforts to do so and why they were unsuccessful."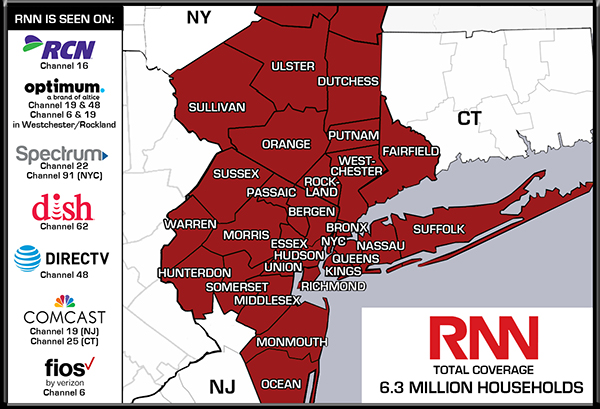 RNN is led by CEO Richard French and was founded in 1993 with the acquisition of the former WTZA-62 in Kingston, N.Y.