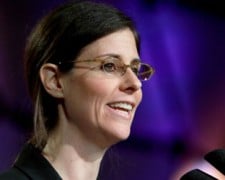 2012 ended well, but 2013 started slow. However, Wells Fargo analyst Marci Ryvicker notes that things have been picking up, and prospects of a banner year in the automotive category are expected to fuel at least moderately positive thoughts as the quarterly conference call cycle kicks into gear.
Ryvicker said the last two months of 2012 were good despite the fiscal cliff posturing in Washington that has been blamed for a noticeable drop in consumer confidence, not to mention a real drop in consumer disposable income due to the return to the old Social Security payroll deduction rates.
She also noted that the slow start to 2013 was nothing to worry about, since the first two months of the year almost always start out slow and it's not generally a precursor of things to come. Plus business has been slowly picking up steam.
Adding these things together, she stated, "As we near earnings, we think the tone on the calls will be cautiously optimistic (economy is uncertain BUT auto could be huge) and anticipate forward looking commentary to be short-term in nature caveated by the persistent lack of visibility, esp. given this time of year."
For television groups, CBS is the place to be, thanks to the Super Bowl – LIN and Sinclair are well position in this regard. She also expects further action this year on the M&A front.
She said radio is soft at the beginning of the year, but no alarm bells are being sounded as business is returning. A big M&A year is not expected on the radio side.
Outdoor is suffering from spotty national business and "flattish" rates, but is also expected to report cautious optimism headed into the year.