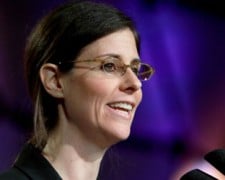 Wells Fargo analyst Marci Ryvicker notes that there are a lot of "moving parts" when looking at the prospects of Sinclair, after they spent over a billion dollars on four transactions in 2012. And she thinks that Wall Streeters are missing the company's true value.
"The Street is too conservative on this one – we are raising estimates and our valuation range," said Ryvicker. "There is no question there have been a lot of moving parts to the SBGI story given three nice sized acquisitions — all of which closed within the last 12 months. As a result of the many changes, we have been fielding a lot of calls as to what the 'new' Sinclair will look like in 2013 and beyond."
She said that Wall Street is shooting low on just about all metrics, and then stated the Wells Fargo position on the company: "We raise our 2012/2013 revenue and EBITDA estimates, which result in 2012 EPS of $1.71 vs. our prior $1.65 and consensus of $1.64 and 2013E EPS of $1.39 vs. our prior $1.23 and consensus of $1.30. With the changes to our model, our 5-year DCF also suggests a higher valuation range, of $16-18 vs. our prior $14-16. Our new range represents a 7x blended EBITDA (2013/2014) multiple vs. the current <6x."
The deals Sinclair completed in 2012 included:
* Seven station from Four Points for $200M, closed 1/1/2012
* Eight stations from Freedom for $385M, closed 4/2/2012
* Seven stations from Newport for $467M, closed 12/1/2012
* One station from Bay-TV for $40M, closed Q4 2012
All of this was done without significantly increasing leverage, she said, and then launched into some more specifics: "We raise revenue and EBITDA. First, we add Newport (which closed 12/3/2012) to our Q4 2012 ests. Then, we adjust our PF2012 and as-reported 2013 ests to better reflect the total contribution of all 23 acquired stations. At the end of the day, our Q4E revenue and EBITDA move to $319.1MM and $139.8MM from $305.0MM and $132.8MM; Our 2012 revenue and EBITDA ests move to $1.057B and $408.6MM from $1.043B and $401.6MM; and our 2013 revenue and EBITDA ests move to $1.172B and $415.1MM from $1.136B and $404.7MM."
Wells Fargo is also expecting free cash flow to surge to the $220M neighborhood.
The company is rated outperform.