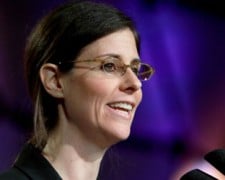 The early read from Well Fargo analyst Marci Ryvicker on Q3 results, before the bulk of the quarterly conference calls are held, points to three classes of performers. There are the hot hands at broadcast TV, the fair-to-middling outdoor companies, and the cool/lackluster radio groups.
The elections are fueling very successful quarters at most television groups, and on top of that, many also profited from the Olympics and the resurgence of the automotive category. Of course, the amount of political spending depends a great deal on the location of local broadcast television stations. But groups with heavy exposure in battleground states are faring particularly well. By the same token, groups heavily invested in NBC affiliates were the ones making hay over the summer during Olympics time.
Ryvicker says outdoor results appear to be mixed. They have been riding local on top of soft national business, and seem to be losing steam heading into Q4. Both Lamar and Clear Channel appear poised to make gains in the 3% area for Q3.
Ryvicker sees radio moving in the opposite direction. After what appears to have been tough months of August and September, business seems to be picking up in October and November. Nonetheless, political has simply been a major disappointment for radio companies – according to some reports seen by RBR-TVBR, business that might have gone to radio in years past has been redirected to local cable.
RBR-TVBR observation: Wise heads at radio need to sit down now and think about 2014. There is no reason that radio should not be getting a bigger share of political advertising. The industry needs to sit down and come up with a strategy to sell its advantages to political operatives now.
Radio spots can be produced with speed – tailored to the needs of any particular day in a campaign, bought at a reasonable price, and targeted with precision. Radio should be a key part of every campaign's tactical media armory. And it can be an absolutely vital part of a campaign that involves only a small portion of a major media market – TV can be priced out of reach for a contestant on the outskirts of a big DMA.
Apparently politicos need to be schooled in how to use the medium effectively. The time to start putting together a campaign and educating them is now. Well, a month from now.