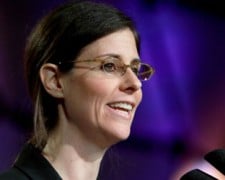 Marci Ryvicker, Wells Fargo Senior Analyst, has delivered her thoughts on the FCC's UHF Discount NPRM. The FCC voted 2-1 at its open meeting 9/26 to initiate a public comment process for the proposal, which would eliminate the UHF discount allowing TV station owners to count only 50% of a UHF's audience toward the FCC's 39% cap on a station group's total audience reach.
Says Ryvicker: "While we have not been able to speak with our regulatory contacts just yet, we felt it appropriate to provide our initial thoughts from this proceeding given the stock price performance.
1) The NPRM was pretty balanced (as we had suspected) – introducing the possibility of a VHF discount as well as several grandfathering proposals. Interestingly, we heard prior to this proceeding that the VHF discount might just pass muster given that the FCC is encouraging broadcasters to trade UHF for VHF spectrum positions in the broadcast incentive auction.
2) The NPRM does not appear to be in response to broadcast M&A (as we thought) but rather has been a subject for discussion as far back as 1998, when the digital transition was first proposed.
3) Commissioner Pai had a strong dissent – for two reasons. 1) He thinks that the UHF discount cannot be eliminated without a review of the media ownership cap (which we remind you sits at 39%). 2) He believes that there should be NO change to any portfolio until FINAL rules are established.
4) The FCC Commissioners were granted editorial privileges – we are not sure to what extent this delays the posting of this NPRM to the federal register but hope to get an update shortly.
BOTTOM LINE: While we still believe that the UHF Discount will ultimately be eliminated, it appears to us that this NPRM is more balanced than the trade and business press initially suggested. While we still have not seen the document ourselves, we think Commissioner Pai brought up some compelling arguments that are unlikely to be ignored and which could actually lead to some measure of de-regulation."