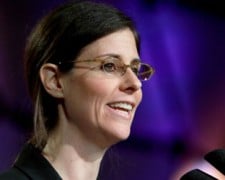 Wells Fargo's Marci Ryvicker says that local television is getting two boosts simultaneously, from the political and automotive categories. However, other media are not sharing in the bounty.
Ryvicker said, "Our overall conclusion: Local TV remains hot and large market outdoor has picked up; while network scatter, radio and local outdoor are a bit more tepid."
She believes that Sinclair and Belo are among the best positioned to take advantage of prevailing conditions.
She notes that core advertising for local television is up in double-digit territory, but says that will be unsustainable by the last two weeks of September as political gets even hotter than it already is.
NBC dominated the television network wars during the Olympics, but now that they are over, Ryvicker said Fox seems to have had the most success. And although Disney's ABC network seems to be the laggard of the broadcast nets, Disney's cable outlets seem to be setting the pace on the cable side.
"Radio has cooled," said Ryvicker. "While broadcast TV continues to strengthen, our contacts suggest just the opposite is happening in radio, with September pacings characterized as 'unusually slow.' It sounds to us like (i) advertisers are trying to avoid the above-average rates that tend to kick in during a hot election year, and (ii) the local economy is still spotty."
It's a mixed bag for outdoor, according to Ryvicker, with national flat-to-up and local flat-to-down.
RBR-TVBR observation: Local television is lucky in a way – people are used to getting a large dose of national content on their local channel, just so long as there is plenty of local at the right time, chiefly during traditional news times.
Radio is challenged to provide much more local programming than is television. But that is its key advantage, and it must defend that turf with everything it's got.
For example, if our station was in a format competition with a station using a morning show out of Los Angeles, we'd buy billboards, put up photos of the LA talent and our talent and shout out the point that our talent LIVES HERE!
Additionally, we believe radio must do a better job of selling itself as a primary place for political advertising – it should not be seen as a spillover venue when television schedules fill up. Targetability and affordability are key points in radio's favor – sell them.
Finally, everybody knows advertising cash is headed to the internet, so a web presence must be fully incorporated into the radio business model. To this end, radio should be working to get streaming royalties down to a reasonable level. And the website should become a destination for a station's fan base – it should engender a sense of community of which fans and advertisers want to be a part.
These are just starting points. Radio has always been the most resilient of media. Right now, we think it's hit a speed bump – and to get over it, it will have to transform itself once again and refit for the 21st Century.