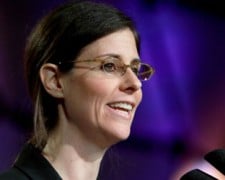 Now that Clear Channel Outdoor (CCO) has taken on $2.2 billion of new debt to help its parent company, Clear Channel Communications, deal with its debt maturities, Wells Fargo Securities analyst Marci Ryvicker has been reworking her projections for the billboard company. She has now reduced her valuation range for the stock and given it a downgrade.
"We are downgrading the shares of CCO to Market Perform [hold] from Outperform [buy]," Ryvicker said in a research update to clients. She also reduced the high end of her valuation range for the stock by a buck to $14-15 from $14-16. CCO closed Monday on the NYSE at $14.31.
She provided three bullet points as to why she's pulled back on the stock: "1) we believe that the current stock price appropriately reflects the recently announced special dividend; 2) our checks indicate that the outdoor business is stable but not necessarily improving, meaning that the risk profile of CCO has increased while fundamentals may not have; and 3) we do not anticipate another "event" as large as the recent dividend to accrue to equity holders over the next 12 months. As a result, we view the current risk/reward proposition for equity holders less favorable post the company's $6 special dividend payment, [LINK] which is to be paid on March 15 to shareholders of record as of March 12."
Ryvicker said the increased debt load at CCO creates more risk, but not necessarily more rewards for shareholders. Meanwhile, she said her sources indicate that local advertising is stabilizing, rather than accelerating.
"We have talked to a number of groups with significant exposure to local advertising – including radio, broadcast TV and outdoor. Our biggest takeaway is that the environment remains relatively stable at low- to mid-single digit revenue growth (excluding political – primarily for TV but also for some radio groups) and that most if not all of the strength is coming from the auto sector, which is not surprising to us given the February auto SAAR numbers of 15.0 million units. One thing we should point out here that is particularly relevant to CCO is that auto is not necessarily a main driver for outdoor, as it is for radio and television. Per the OAAA, the auto category comprised less than 4% of outdoor industry ad revenue in 2010 versus ~15% for radio and ~25% for TV," Ryvicker wrote of the advertising environment.
RBR-TVBR observation: We will be watching to see what happens to Clear Channel Outdoor's stock after the $6.08 special dividend payment. If the stock drops by a corresponding amount it could be dangerously close to penny stock territory (anything below five bucks) if the market takes a dip.