Entercom Communications' Q1 revenues were flat at $78.2 million. Station Expenses were also flat at $57.8 million. Station Operating Income was flat at $20.4 million. Adjusted EBITDA declined slightly to $15.1 million. Adjusted Net Income per share more than doubled to $0.05. Free Cash Flow increased 19% to $4.7 million.
Said David Field, Entercom CEO: "I am pleased to report that Free Cash Flow increased 19% for the quarter. First quarter Revenues were up excluding the effect of our non-renewal of Boston Celtics radio broadcasts, despite the unusually challenging winter weather that impacted many of our markets. We are increasingly enthusiastic about the radio industry's future growth outlook based on a number of recent developments, most notably the release of the Nielsen Catalina study which showed radio generating outstanding ROI results across ten major national brands, significantly outperforming other competitive media."
During the quarter, the Entercom launched SmartReach Digital, a new division that will help local businesses navigate the growing universe of digital marketing options. It will focus on designing and implementing fully integrated local digital marketing strategies to help simplify the complex and constantly changing digital marketing landscape for local businesses. SmartReach Digital will offer a number of products and services that enable local businesses to attract, activate and engage targeted leads. SmartReach Digital has rolled out in six of Entercom's markets as of 5/1. Additional markets will be added over the next twelve months.
The Company reduced its outstanding debt by $18.1 million (net of cash) during the quarter. As of March 31, 2014, the Company had $5.9 million in cash and $492.7 million of senior debt and senior notes.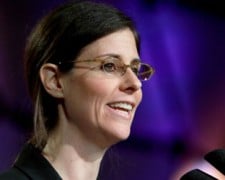 Noted Marci Ryvicker, Wells Fargo Securities Senior Analyst: "ETM's Q1 came in ahead of ests. While rev. was essentially in line (flat), EBITDA, EPS, and FCF beat due to better than expected cost controls. We heard quite a bit on this call: learning about SmartReach (see below) and hearing about how a recent Nielsen report underscores the significant ROI of radio. When it comes to the Q2 pace, we were not surprised to hear of deceleration or "choppiness". At the end of the day, we are taking our 2014 ests. down to reflect a slower ad environment and slightly higher costs related to Smart Reach, while we are actually raising 2015 in anticipating of incremental cash flow from this initiative. NET, our 2014/2015 estimates move to $387MM/$390MM in rev., $103MM/$103MM in EBITDA, $0.80/$0.81 in EPS and $1.61/$1.65 in FCF/sh from $387MM/$385MM in rev., $104MM/$100MM in EBITDA, $0.81/$0.77 in EPS and $1.66/$1.57 in FCF/sh, respectively.
•    Color on Q1 results: Rev. was flat but would have been +1% excl. the effect of the Boston Celtics' non-renewal. Mgmt. also confirmed weather was an issue (auto was down MSD in Q1, but accelerated in Q2). National outpaced local, and Jan. was up LSD while Feb and March were down slightly. The company's best markets were Austin, Kansas City, Memphis and San Francisco, while the top performing categories included telecom, insurance, and health and medical.
•    Color on Q2 pacings & 2014 guidance. Q2 is pacing -1%; Apr. ended -1%, and June is better than May. Mgmt. characterized Q2 as "choppy" & "last minute," which is consistent with what we heard from other media cos. In terms of expenses, '14 opex guidance is now +3% (vs. prior +2-3%) due to the launch of SmartReach (see below), with Q2 +5%, and both Q3/Q4 +3%. We increased our full yr est. to +3% accordingly, which negatively impacted EBITDA by ~$1MM.
•    SmartReach is a nice "option" in our view. SmartReach Digital, a new division of the company that will provide digital marketing solutions for local businesses, was announced last week and is already up and running in 6 markets. Mgmt. anticipates this becoming a meaningful contributor over time, but right now it is adding ~200bps to expense growth and likely won't generate any sort of meaningful revenue until Q4 (~10%, or $1MM, we believe). Given that the business model is rather new (and likely still being refined), we have included relatively static revenue and expenses of ~$4MM and $3-4MM/year until we hear of more substantial trends. We view SmartReach as a nice "option" that is likely to generate some incremental business over time.
•    Nielsen reports could really help radio. A few months ago, Nielsen released a study that showed radio was the No. 1 medium in the country from 5am to 5pm daily; and just recently a new study showed radio generating outstanding ROI. Specifically, this recent report demonstrates that radio ads generate an avg. sales lift of $6+ every $1 of radio adv. – much higher than other media."