FCC Commissioner Geoffrey Starks has spoken out on nationwide protests in response to racial injustice and the murder of African American George Floyd on Memorial Day in Minneapolis by committing himself to furthering diversity in media ownership.
The comment comes just one day after Republican Commissioner Brendan Carr noted in a fireside chat with Cooley LLP partner Robert McDowell, himself a former Commissioner, that further deregulation of radio industry ownership rules was needed to help save the medium.
Starks on Tuesday offered a response to the escalating violence associated with a handful of the peaceful protests being staged across the U.S. in response to Floyd's death at the hands of Minneapolis Police Department officers.
He did so not only as a FCC Commissioner but "as a Black father of two young children who
deeply cares about my country and my community."
Starks continued, "I know that our policymakers must do more to include Black people and other communities of color and create a better world for future generations. We all have a part to play in the fight for equity and, as a communications policymaker, I take it very seriously."
As such, Starks declared, "I am committed to continuing to advocate for inclusive
broadband access and adoption policies and diversity in media ownership."
He explained, "Access to robust and affordable broadband allows our communities to call attention to civil rights violations, mobilize and organize for social change, and advocate for policy changes. Similarly, diverse ownership within the media landscape allows us to promote and take control of our own stories. We know there are wider political, economic, and social implications at stake in both of these issue areas."
While Starks acknowledged that these challenging times "are an opportunity to create real change in our country," to do that requires going beyond the acknowledgement of the existing inequities in this country by eradicating them "as we build the future all of our children deserve."
Starks' comments on diversity in media ownership, however, may fall on deaf ears by his Republican colleagues, all of whom have taken the position that unregulated local digital media — namely Facebook and Alphabet's YouTube and Google — have siphoned so many dollars away from radio that a NAB-backed proposal greatly eliminating one-company domination in small and mid-sized markets is justified.
Mike O'Rielly has warmly pushed for the NAB's suggested easing of local ownership caps, while Chairman Ajit Pai has expressed his desire to move forward with regulatory easement for local radio.
On Monday, Brendan Carr shared his thoughts during a wide-ranging hourlong webinar hosted by McDowell, who has completely recovered from a bout of COVID-19 that landed him in the hospital multiple times.
While Carr did not commit himself to a position on radio industry deregulation, he argued that the record showed it is needed. Carr cited the local ad dollar siphoning by local digital as a key reason, while also sharing a story about a trip to Cody, Wyo., that led him to visit two local radio stations. One was live and vibrant in its operation. The other yielded a Dell laptop with programming originating from out of the area.
The latter scenario could be avoided, he argued, if local ownership rules were eliminated, allowing that station with the laptop to be locally owned — presumably by the operator of the other station.
There is one AM station licensed to Cody, while two full-powered commercially licensed FMs are based in the town.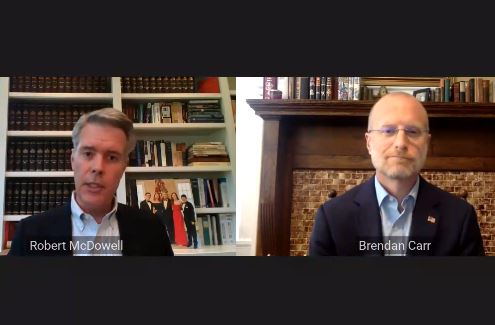 The discussion with McDowell and Carr also included chatter on the broadcast internet item that could bring big riches to NEXT GEN TV users in the years ahead. 
On Tuesday, APTS submitted an ex parte letter to the FCC expressing its support of the NPRM and draft Declaratory Ruling.