Gannett scored revenue growth of 12%, pro forma revenue growth of 2% and Broadcasting Segment revenue growth of 88%, a 13% increase on a pro forma basis. Adjusted EBITDA rose 28% to $354 million driven by strong Broadcasting and Digital Segment results.
Non-GAAP earnings per diluted share were $0.67 for the second quarter compared to $0.58 for the second quarter of 2013, a 15.5% increase.
The company's acquisition of Belo Corp. drove significant growth in Broadcasting Segment results while the Digital and Publishing Segments also contributed to strongly profitable results for the quarter.
Said Gracia Martore, Gannett President/CEO: "Our very strong second quarter results reflect the outstanding progress we've made in our strategic transformation, positioning Gannett to compete effectively in today's multi-media landscape. Our expanded broadcast portfolio drove overall company margin expansion during the quarter, as we continue to transform Gannett into a higher margin, higher growth business. In fact, our Broadcasting and Digital Segments generated approximately two-thirds of our Adjusted EBITDA during the quarter. However, the pressure on national advertising across media impacted results for our Publishing and Broadcasting Segments in the quarter. We generated over $300 million in free cash flow during the quarter from the strength of our operations as well as the proceeds from the sale of Apartments.com. We are confident that we'll continue to generate healthy levels of cash, which – coupled with our strong balance sheet – provide us with ample financial flexibility to continue to invest in our transformation to bolster continued growth. Looking toward the rest of 2014, we anticipate very strong political advertising demand in the third and fourth quarters and we are well positioned to capture a significant portion of that revenue opportunity."
In the quarter, on 4/1, Classified Ventures completed its sale of Apartments.com. Gannett owns a 26.9% interest in Classified Ventures and, as a result, received a cash distribution of $155 million in proceeds from Classified Ventures. On June 19, 2014, the company and Sander Media LLC announced the completion of the previously announced sale of KTVK-TV and KASW-TV in Phoenix for $231 million. The total purchase price of the television station sales including KMOV-TV in St. Louis was $408 million. The company's previously announced acquisition of six of London Broadcasting Company's television stations in Texas for $215 million was completed on 7/8.
Broadcasting
Broadcasting Segment revenues on a pro forma basis were up 13.4% compared to Q2 2013. On the same basis, retransmission revenues were 66.6% higher and totaled $88.7 million. Politically related advertising revenue reached $16.6 million compared to $2.8 million in the second quarter a year ago. Pro forma digital revenues in the Broadcasting Segment were 15.2% higher in the quarter reflecting increasing traction from digital marketing services products. National advertising trends impacted core revenue in the quarter resulting in a 2.0% decline compared Q2 2013. An increase of almost 1% in local revenue was more than offset by a 7.3% decline in national revenue.
Broadcasting Segment non-GAAP operating expenses totaled $221.6 million in the quarter, up 3.1% on a pro forma basis, due in large part to higher reverse network compensation and digital initiative investments. Non-GAAP operating income was $176.7 million while Adjusted EBITDA totaled $194.2 million, increases of 80.1% and 84.8%, respectively, compared to the second quarter last year. On a pro forma basis, non-GAAP operating income was up significantly, 29.6%, and
Adjusted EBITDA increased 26.0%.
Looking Ahead
Based on current trends and including a full quarter of results for the former Belo stations, Gannett expects the percentage increase in total television revenues for the third quarter of 2014 to be in the high nineties compared to Q3 2013. On a pro forma basis, the percentage increase in total television revenues in the Q3 2014 is projected to be in the high teens compared to Q3 2013.
Publishing
Publishing Segment revenues in the quarter totaled $867.4 million, a 4.1% decline compared to $904.2 million in the second quarter of 2013. On a pro forma basis, which excludes the impact of the sale of Apartments.com, Publishing Segment revenues were 3.7% lower. The decline reflects continued pressure on advertising demand, particularly domestic national advertising, partially offset by higher revenue associated with digital advertising and marketing solutions.
Advertising revenues were $530.2 million, a 5.7% decline compared to $562.5 million in the second quarter of 2013. Pro forma ad revenues were 5.1% lower. On the same basis, retail and classified advertising comparisons in the second quarter were better than first quarter year-over-year comparisons. Employment advertising was up 1.3% in the quarter. Excluding national advertising, which was 16.3% lower in the quarter, advertising revenue year-over-year comparisons improved sequentially.
Digital
Digital Segment operating revenues totaled $194.4 million, a 4.2% increase from Q2 2013. The revenue growth was driven primarily by higher revenues at CareerBuilder reflecting strong sales of its human capital software-as-a-service products. Operating expenses in the Digital Segment were 4.9% higher as CareerBuilder continued to invest in its sales staff expansion as well as technology support for its human capital software solutions. Digital Segment operating income was $35.7 million in the quarter and Adjusted EBITDA was $45.3 million.
Pro forma digital revenues company-wide, including the Digital Segment and all digital revenues generated by the other business segments, reached $396.9 million, an increase of 6.0%. Higher revenue associated with CareerBuilder, digital marketing solutions products and digital advertising drove the increase.
At the end of the quarter, Gannett had approximately 120 domestic web sites affiliated with its local publishing and television markets, USA TODAY, Gannett Government Media and Gannett Healthcare
Group. In June, Gannett's consolidated domestic Internet audience was 57.5 million unique visitors reaching 25.2% of the Internet audience, according to comScore Media Metrix. USATODAY.com is one of the most popular news sites and the USA TODAY app is a top news app with 20.3 million downloads across iPad, iPhone, Android, Windows and Kindle Fire. USA TODAY mobile visitors continued to grow in June and nearly doubled from June 2013 to approximately 40 million with a 40% increase in mobile visitor reach to 23%, according to comScore Mobile Metrix. Newsquest is also an Internet leader in the UK where its network of web sites attracted 119.8 million monthly page impressions from approximately 17.8 million unique users in June.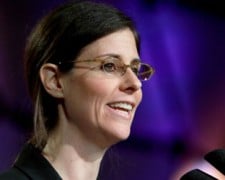 Said Marci Ryvicker, Wells Fargo Securities Senior Analyst: "[Gannett] confirmed that national advertising was weak in Q2 (both for USA Today and television stations) due to a congruence of factors – the economy, World Cup, and a shift of spend into social media. May was down single digits, while June was down higher teens for GCI's national publishing – this leads us to believe that a lot of the softness was definitely due to an oversized amount of June World Cup ad dollars. Auto on the television side started Q2 DOWN, but is pacing positive in Q3.
Commentary on national in Q3 was surprising, as national was noted as showing "substantial improvement" (we would note that the improvement is EX-political)."