Here's something that may lead you to add a little more spiced rum to your Egg Nog.
U.S. advertisers invested $17.6 billion in digital advertising in Q3 2016, according to the latest IAB Internet Advertising Revenue Report, released Wednesday (12/28) by the Interactive Advertising Bureau (IAB) and prepared by PwC US.
This marks the highest Q3 for digital advertising spending on record, and represents a 20% increase over the same time period in 2015. It also accounts for a 4.3% increase over Q2 2016.
---
RBR + TVBR OBSERVATION (full text below, for subscribers): Instead of grabbing a bottle of Brioschi, consider the ways your media properties can inject themselves into the digital landscape. Digital dollars are not going to decrease anytime soon. So, make yourselves a 360-degree media company with full digital capabilities.
---
"The momentum of advertising in mobile, digital video, and other innovative formats is undeniable," said IAB EVP/CMO David Doty. "These record-setting third quarter revenue figures reflect marketers' trust in the internet's power to connect with today's audiences."
David Silverman, a partner at PwC US, added, "Digital has become a critical part of advertisers' marketing strategies. Increasing media consumption on interactive screens will surely lead to even more investment in the digital landscape."
The following chart highlights quarterly ad revenue since IAB began measuring it in 1996; dollar figures are rounded.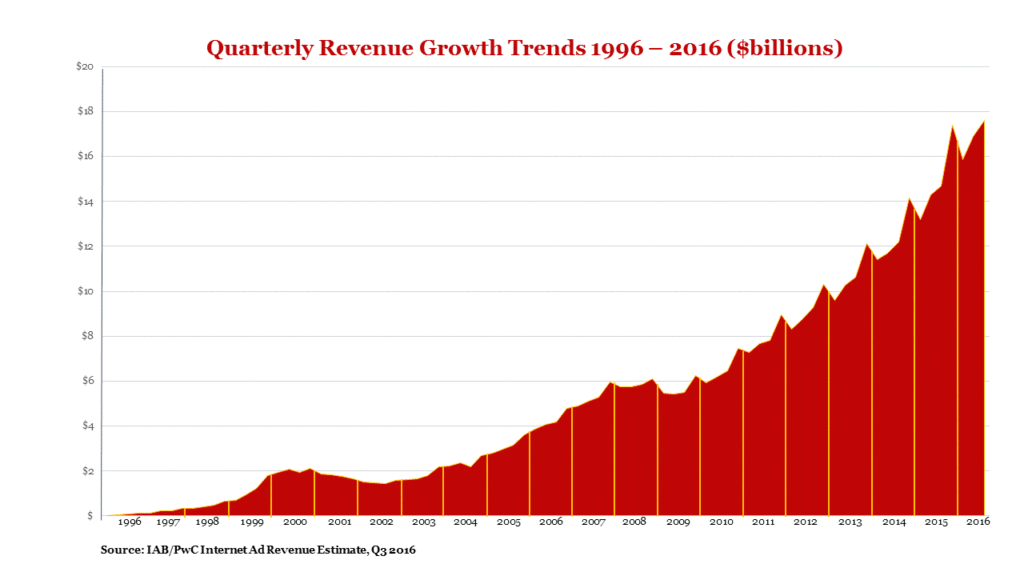 Q3 2016 revenue is estimated based upon a representative sample of the overall survey respondents. The data is compiled directly from information supplied by companies selling advertising on the internet. The survey includes data concerning online advertising revenues from web sites, commercial online services, free e-mail providers, and all other companies selling online advertising.
The full report is issued twice yearly for full and half-year data, and top-line quarterly estimates are issued for the first and third quarters. PwC does not audit the information and provides no opinion or other form of assurance with respect to the information.
Past reports are available at iab.com/adrevenuereport.