There's a new New York Yankee hero to add the list of legends associated with the Major League Baseball team.
Who knew that it would be a sportscaster whose widely known among English-language sports fans in Philadelphia who calls Yankees games en español while in the Bronx?
Rickie Ricardo is being lauded for rushing to the aid of the Yankees' lead play-by-play announcer, John Sterling, late Wednesday, perhaps saving him from rising floodwaters associated with the remnants of Hurricane Ida.
Ricardo is the Spanish-language radio play-by-play voice of both the Yankees and the NFL's Philadelphia Eagles, and is a host on Sports Talk WIP-FM 94.1 in Philadelphia, the Audacy-owned station.
Ricardo and Sterling were at Yankee Stadium on Wednesday night, before rain and wind associated with Ida's remnants arrived in the New York Tri-State Area, creating a late-night mess sparsely covered by local TV stations until the morning.
Sterling, 83, was in New Jersey, stranded on a road that had flooded. Cell phone reception was poor, and some 10 attempts were made for Ricardo to reach Sterling; Ricardo had called upon learning of how terrible the weather had become while also driving to his home in the Garden State.
Ricardo shared on WFAN Thursday morning what transpired from that point.
"He answered the phone and I said, 'John, it's Rickie. Where are you? … John is trying — in the dark because the lights are out — to describe to me where he's at. He goes 'Oh I'm in front of this Chinese restaurant on the corner of this bagel shop.' And he's in his car and the water's rising."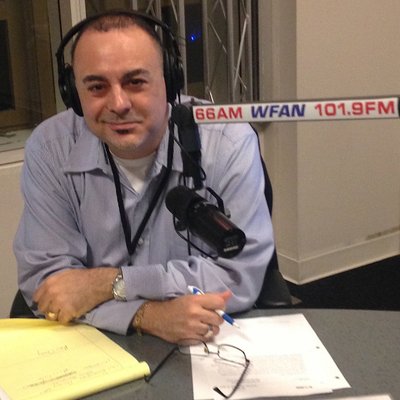 Ricardo sprang to action, and raced over the George Washington Bridge to find him. Suzyn Waldman, Sterling's game-time partner, called Ricardo to give him the exact location: the unfortunately appropriately-named River Road in Edgewater, just south of the bridge and facing Columbia University on the opposite side of the Hudson River.
Ricardo got there. When he found Sterling, some 25 cars were stranded. The water had reached the tires of his automobile. Ricardo rolled up his pants, got out of his vehicle, waded through the flood waters, and got Sterling out safely into Ricardo's Jeep.
"Finally I get John settled into my Jeep and he's kind of shell shocked and I don't blame him," Ricardo said on WFAN.
The adventure didn't end. Sterling's home was just one half-mile away, but getting there proved difficult. With local law enforcement officers assisting, that trek took about an hour but was ultimately successful.
For Michael Kay, also associated with Yankees broadcasts, a trek home to Connecticut proved impossible, due to major flooding in the Bronx that turned the Major Deegan Expressway near Van Cortlandt into a deep river. Kay ended up spending the evening at his alma mater, Fordham University.
— With reports from Twitter and the New York Daily News.