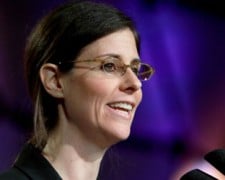 Pretty soon most publicly traded companies will be sharing their Q1 2013 revenue results with investors and analysts, and one of those analysts, Marci Ryvicker of Wells Fargo, sees steady if unspectacular local income.
"The core business seems relatively healthy," Ryvicker commented. "Over the past several days, we had the opportunity to decipher revenue trends across traditional media and have concluded that the first quarter of the year started off slow but ended relatively well with a positive pace so far in April."
In general, the conference call season is expected to be generally uneventful, with the television side dominated by talk of M&A activity.
Television is the better-performing of the two broadcast media. Q1 is said to be flat to up slightly with a bump on the positive side going into Q2. She said that in addition to M&A, television honchos will likely have Aereo and the Fox threat to go straight to cable on their minds, as well as the prospects for mobile TV.
Radio got off to a soft start, Ryvicker noted, but has been picking up in March and April. She believes the dominant topic of discussion will be on controlling costs.
Outdoor has been stable, she noted.