SUNRISE, FLA. — The warning signs started on Thursday, when headliner Megan Thee Stallion withdrew from the Atlanta "Jingle Ball" concert staged by iHeartMedia for its "Power 96.1" in the market, elevating The Black Eyed Peas, Tate McRae, Tai Verdes and Bazzi in rank of must-see acts on the bill.
Then, with just hours to go before the final scheduled "Jingle Ball" concert for iHeartMedia's "Y-100" in South Florida, the event was scratched.
The Omicron variant of the COVID-19 virus is to blame. Is this a warning sign that event revenue for broadcast radio remains shaky for an industry that has experienced a much slower recovery from the depths of the pandemic than broadcast television?
News of the Y-100 Jingle Ball cancellation, following announcements of similar cancellations and postponements of Broadway shows and Saturday Night Live in New York and sports matches in the NFL, NHL and NBA, brings a new wariness to the in-person mass gathering for radio. At the Audacy Beach Festival, held December 4 and 5 on Fort Lauderdale's main beach, headliner Swedish House Mafia pulled out within 24 hours of its festival-closing performance due to COVID-19.
For the Y-100 "Jingle Ball," the venue was the FLA Live Arena, home of the Florida Panthers pro hockey club. In a Tweet from the official Jingle Ball account, "the increased transmission of the new COVID-19 variant" led to the event's cancellation.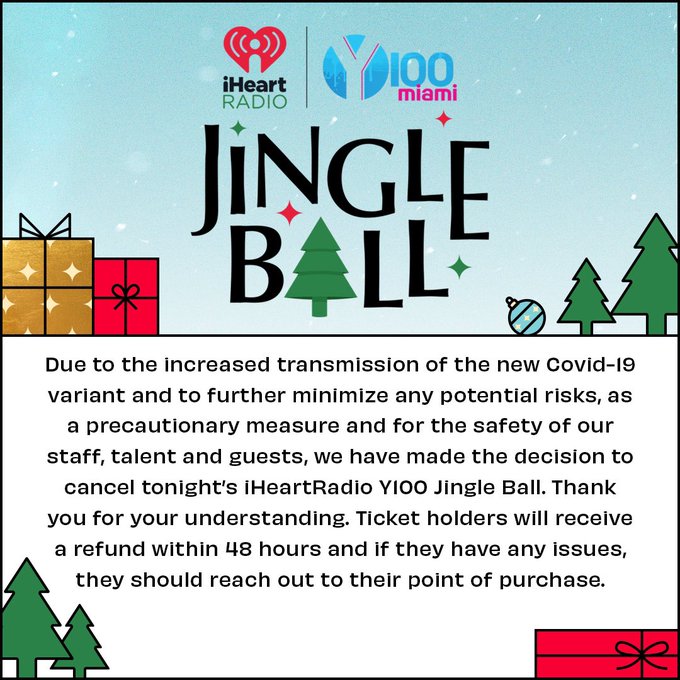 In a follow-up post made by WHYI "Y-100" on Twitter, the longtime iHeartMedia Top 40 station said, "Our ticketing partners have relayed that refunds may take between 3 and 30 days to be reflected in your account."
The Tweet was in stark contrast to the last one made by Y-100, which advised, "Everyone better hydrate and stretch before the #Y100JingleBall tomorrow because we're gonna be shakin' it, twerkin' it and boom boom pow'in it all night with @Saweetie, @Anitta, @BEP, and @duttypaul."
Megan Thee Stallion was being promoted as a performer on Saturday by iHeartMedia and Y-100 despite the act's withdrawal from the December 16 Atlanta show. Meanwhile, artists Doja Cat and The Jonas Brothers had already withdrawn from the Jingle Ball series of concerts originated by WHTZ "Z100" in New York due to COVID-19 concerns.
At iHeartMedia, Events revenue is calculated under the rubric of the iHeartMedia Multiplatform Group, which is also comprised of the company's broadcast radio, networks and sponsorships businesses. For the three months ending September 30, 2021, sponsorship and event revenue for iHeartMedia came in at $42.66 million, rising rom $28.9 million in Q3 2020.
The South Florida Sun-Sentinel was the first local news organization to widely distribute news of the Y-100 "Jingle Ball" cancellation. The newspaper cited that 30% of new COVID cases in Florida are "breakthrough" cases, while quoting Dr. Anthony Fauci, who spoke Sunday morning on a national television newsmagazine and noted the Omicron variant is "just raging around the world."
With CES 2022 just two weeks away in Las Vegas, one of the world's biggest conferences and vendor expos is now suddenly in the COVID-19 crosshairs. "As many people are not attending CES, NAGRA is scheduling virtual meetings to share their news," the portable audio recorder manufacturer shared in a press release released Monday.
Then, there is NATPE Miami, which begins January 18 at the Fontainebleau Resort on Miami Beach and traditionally attracts a large international crowd of program suppliers and vendors.
While these major events with global reach are very much on-schedule, and fully vaccinated attendees are not expected to be impacted, Omicron's spread could very well cloud what transpires come January.