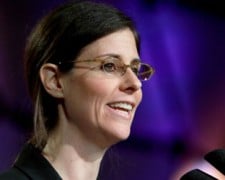 In the two week period encompassed by 6/24 and 7/8, spending on political television advertising increased 11% according to Wells Fargo Securities analyst Marci Ryvicker.
That percentage increase holds whether talking about local television alone or the combined expenditure on local, national spot and network. The local YTD total now sits at $481M; the combined total at $647.7M.
And yes Virginia, there is a political Santa Claus, particularly for battleground states like Virginia (which also has a hot marquee-worthy senatorial match-up between an ex-governor and another ex-governor who also has US Senate experience as well). That is because total political spending money raised so far is all the way up to $3.6B.
The presidential battle is leading the way at the moment. It grew by 18% during this period, well ahead of the overall 11% pace and comprising 40.5% of total spending. 29.8% has been spent on congressional campaigns, 25% on ballot issues, and 4.7% on local elections.
Here's how the fund-raising breaks down at the moment:
$985M (27%): PACs
$798M (22%): parties
$774M (22%): House candidates
$601M (17%): presidential candidates
$439M (12%): Senate candidates
Los Angeles, Cleveland, Tampa, Las Vegas and New York have raked in the most money; but when measuring regional results by the percent political compared to total market revenue, the leaders are Wausau WI, La-Crosse WI, North Platte NE, Sioux City IA and Great Falls MT.
The fastest growth markets of late have included Cleveland, Tampa, Las Vegas, Denver and Orlando in terms of straight cash, and in terms of percentage of total market revenue, they have included North Platte NE, Mankato MN, Sioux City IA, Davenport IA and Zanesville OH.
RBR-TVBR observation: Pretty good for a period in which there was little primary action and is months ahead of any actual voting in the general election. Of course, if you live in one of the prime battleground areas, and receive no direct financial benefit from the purchase of these ads, it's already getting pretty gruesome.