A just-released research study concludes that U.S. households with TV dropped by four million over the past decade.
"The drop is surprising," says InMyArea Research.
Why? The U.S. population grew by 20 million people between 2009 and 2019.
InMyArea Research is tied to Consumer Brands LLC, founded by CEO Michael Gleason.
His firm compared the 2009 and 2019 Nielsen DMA Rankings and found, from this, that the U.S. population is growing … but the number of households with a TV is steadily declining.
From 2009 to 2019, the U.S. population has swelled by more than 20 million to nearly 330 million.  Over that same period, the number of households with a television set (as measured by Nielsen) has declined – dropping four million households to 110 million, InMyArea's Chioma Azeh reports.
"There are big differences across the country as to how Americans are watching TV and how the apparent impact of cord-cutting is not uniform by state or region," Azeh says.
2009 vs. 2019: Summary
The DMAs with the largest drop in TV homes are in northern cities, with Los Angeles, Chicago and New York losing 950,000 TV homes while gaining 1.5 million people.

The DMAs with the largest gains in TV homes are in southern cities, predominantly Texas and Florida, with the "curious exception" of Washington, D.C.

El Paso, Tex., including Las Cruces, N. Mex., is the only DMA where TV homes grew faster than population growth.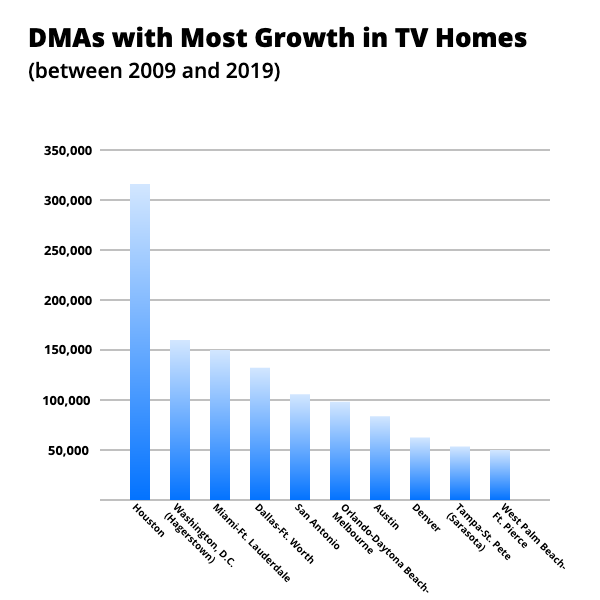 Between 2009 and 2019, DMAs in Florida and Texas saw the most growth in TV homes than any other DMAs in the country. For Dallas-Ft. Worth, Houston and Orlando-Daytona Beach-Melbourne, that growth make sense – those DMAs also rank in the top 10 for population growth amongst DMAs.
"What doesn't make sense is that the number of TV homes shrunk an average of three percent in each of the DMAs with the most growth in TV homes," Azeh states. "That's one percent shy of the total shrinkage in TV homes across the nation."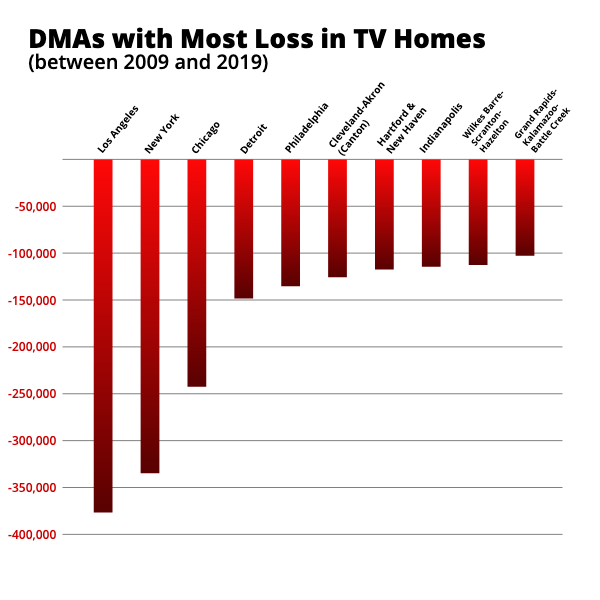 Just as Los Angeles, New York and Chicago are the highest ranking DMAs for 2009 – 2019, they're also the top three DMAs to lose the most TV homes.
TV homes shrunk approximately three percent for Nielsen's top three DMAs despite the growth in their overall populations. The Grand Rapids-Kalamazoo-Battle Creek and Wilkes Barre-Scranton-Hazelton DMAs took the hardest hit, losing seven percent of their TV homes. In Wilkes Barre-Scranton-Hazelton, the shrinkage is consequential of the loss in its overall population. The same applies for the Cleveland-Akron (Canton) and Hartford and New Haven DMAs.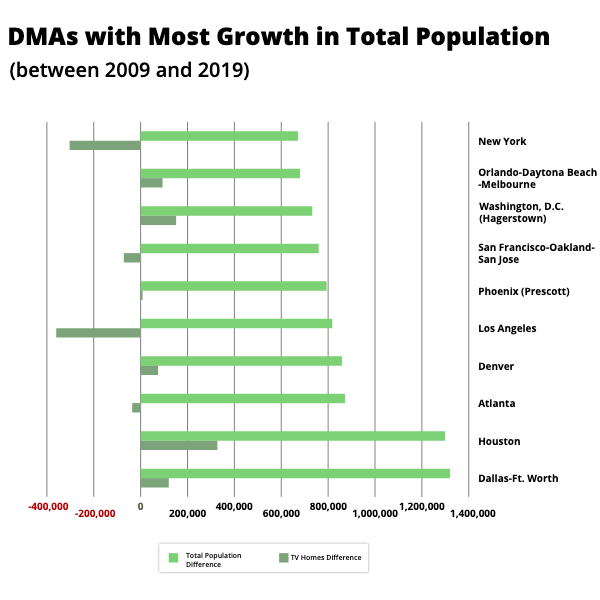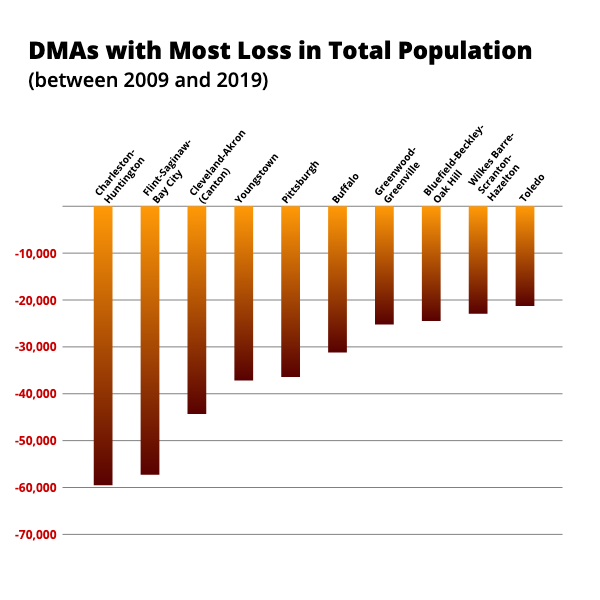 ---
The complete research report can be found at the link below:
https://www.inmyarea.com/research/tv-homes-shrink-while-us-population-grows