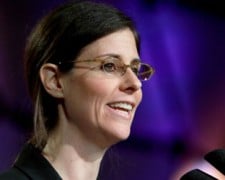 Radio may be navigating choppy waters at this exact moment in time, noted Wells Fargo analyst Marci Ryvicker, but players in the media are working and playing well together, providing reason to believe that business will improve in the not-so-distant future.
The fact that industry leaders are one the same page on so many issues was seen by Ryvicker as the major positive to come out of this year's NAB/RAB Radio Show.
If only she could have said the same thing about the current business climate. Ryvicker noted most were suffering through a September slump. However, things are expected to pick up in October and November – although predictions are cautious.
The at-long-last advent of meaningful radio political advertising is expected to help fuel this recovery. But on a disquieting note, Ryvicker cited her company's belief that politicos have been taking money out of radio and using it instead on local cable.
According to Ryvicker, Wells Fargo sees the Entercom and Clear Channel deals with Big Machine as a positive. The trade of terrestrial royalties for lower digital rates is seen as an ever-growing positive for the radio companies as more and more listening shifts online.
There does not seem to be any appetite for traditional merger and acquisition activity at the moment, according to Ryvicker, but the appetite for strategic initiatives between competing companies is strong. She cited the collaboration of Cumulus and CBS on the CBS Sports Radio Network and the Clear Channel/Cumulus collaboration on iHeartRadio as two examples, and suggested more may be on the way. She said overall it is a positive trend.