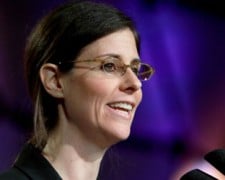 Marci Ryvicker and Wells Fargo Securities are revising estimates downward for three major media companies and holding two others at par as a weaker-than-expected Q3 plays out, partly due to a late start on political spending.
Still, all five companies – CBS, Disney, Viacom, News Corp. and Time Warner – are expected rated outperform.
That said, CBS, Disney and Viacom have all seen their projections lowered while News Corp. and TW are at least holding steady.
Ryvicker said word is that advertisers are holding back "given economic and political uncertainty," and added that this year's crop of political spending is late to develop.
* CBS's situation should not be a surprise, said Ryvicker, since they have noted it themselves. Added to the lateness of the political windfall is damage inflicted by NBC's dominance during the Olympics and a probable foreign exchange hit for its outdoor division.
* Disney will be helped by its parks, but they have to overcome weak rating and the weak advertising environment.
* Viacom's network revenue is going to be weaker than expected but Ryvicker believes it will do slightly better than previously anticipated in the operating income category.
* Cable is going to carry News Corp., overcoming weakness in both its satellite and publishing divisions.
* Time Warner is expected to have negative advertising revenue comps, and is facing tough box office comps as well, but both were expected and predictions for its Q3 therefore remain unchanged.