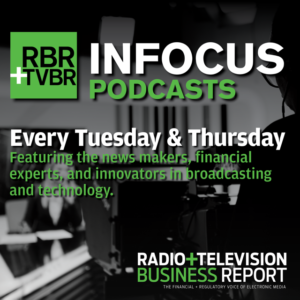 The RBR+TVBR InFOCUS Podcast, presented by dot.FM, continues to attract new listeners.
And, if you've never heard one of these audio reports hosted by Radio + Television Business Report Editor-in-Chief Adam R Jacobson, now is your chance to tune in and catch up on what your peers have been listening to.
Since October 1, thousands of industry leaders have downloaded our podcasts. But, which one has attracted the most listeners?
Introducing Michael Lee, LPTVBA Executive Director.
In this InFOCUS Podcast, Lee offers a comprehensive update on why his organization seeks passage of the "Local Journalism Sustainability Act" as low-power television stations attract buyers ranging from The E.W. Scripps Co. and Gray Television to entrepreneurs including LPTVBA founder Frank Copsidas and South Asian TV programming specialist Ravi Kapur.
It's the most-listened-to podcast since it was first distributed October 28!

Listen to "The InFOCUS Podcast: Michael Lee, LPTV Broadcasters Assn." on Spreaker.